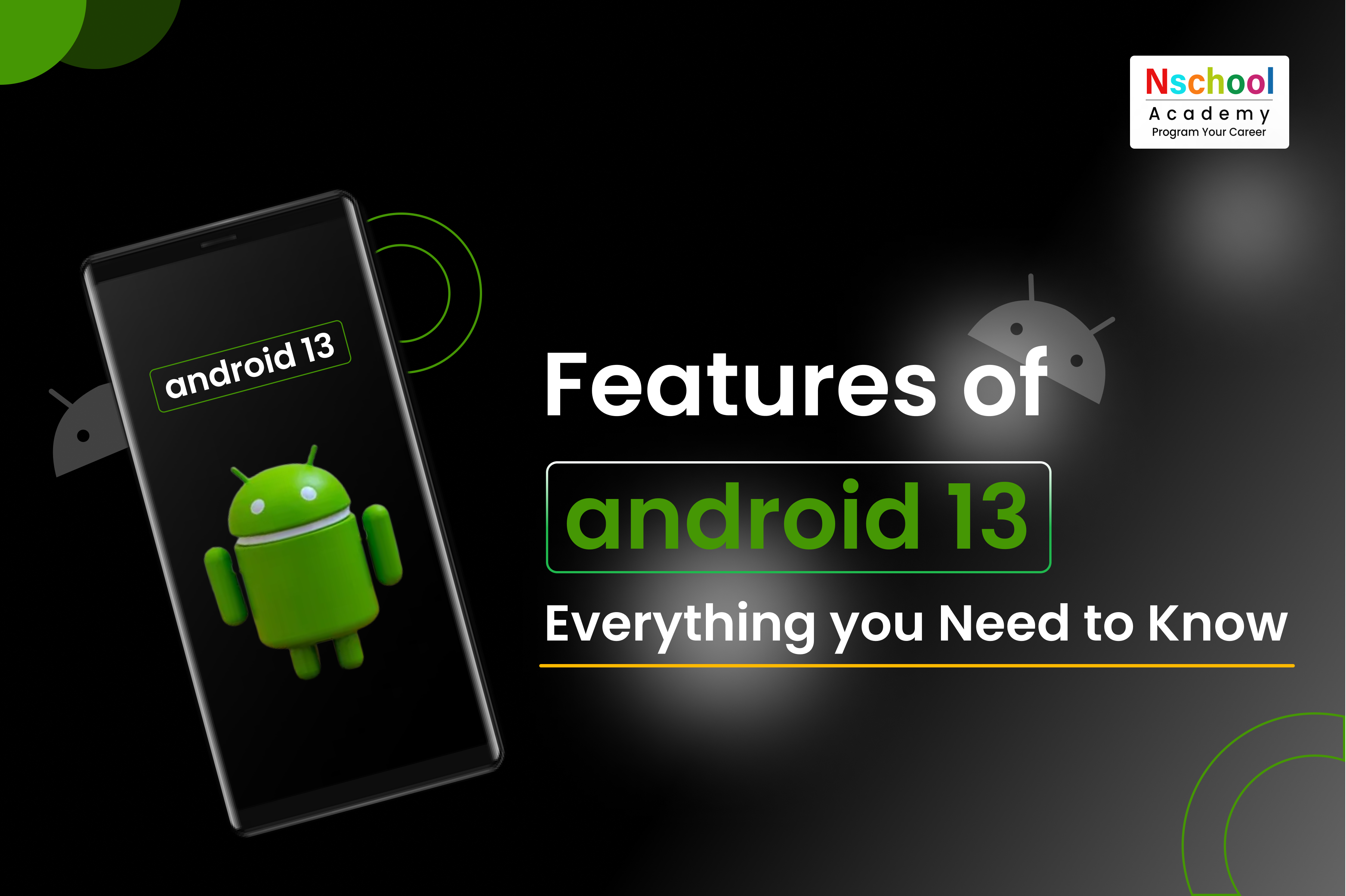 Features of Android 13: Everything you need to Know
Android 13 is the most recent update, with new features and improvements. With Android 13, Google is refining the Material Design while delivering many new features, including bolstered privacy and security, Project Mainline modules, enhanced media controls, and better background app behavior. Google has made version 13 of Android available to the Android Open Source Initiative (AOSP). The stable Android 13 upgrade for Pixel smartphones began rolling out on August 15. A newer version of Android, Android 13, has been released. 
Android 12 introduced one of the most significant design changes since Android 5.0, introducing the Material You design language. Later this year, Android 13 will roll out to various devices from Samsung, Realme, Sharp, Sony, Asus, HMD (Nokia phones), OnePlus, Oppo, Tecno, iQOO, Motorola, Vivo, and Xiaomi, among others, according to the firm. Let's look at what Android 13 offers and how it has been enhanced from previous versions.
Android 13 New Features
Android 13, the thirteenth major version of Google's Android operating system, was made available on August 15, 2022. After its first February announcement on an Android blog (under the pseudonym "Tiramisu"), further beta releases took place in April, May, and June. Android 13.1 was made available for Pixel smartphones as a stable update on August 15.
In addition to great Material Design refinements, additional language and accessibility options, and several other additions and adjustments, the most current version of Android also includes several advancements to privacy permissions and security. This article will cover the most notable updates to Android 13, the main difference between Android 12 and 13, and a summary of the brand-new features included in Android 13.
Android 13 Features
Language preferences
The language options are a key differentiator between Android 12 and 13. With Android 13, users who want their apps to display in different languages now have the option to do so on a per-app basis. Adjusting the language settings in the system's options allows the whole system to run in one language while each program runs in another.
Better Multitasking
By expanding on the capabilities introduced in Android 13, Google has greatly improved its ability to multitask across devices. Chromebook users may now receive instant messages from services like Google Messaging through a browser. If your appliances are Bluetooth-paired, you may easily send and receive notifications even when your phone is out of reach.
Also, a new and exciting capability allows users to copy and paste data across various electronic gadgets. A picture, text, video, or Link may all be easily copied and pasted from a mobile device to a tablet and vice versa. Just touch and hold the item you want to share, find the device you want to send it to, and then release the tap. Simple!
Enhanced audio
Those who use headphones compatible with Spatial Audio will feel as though they are right in the thick of the action. Listen with headphones with head-tracking technology to get the most out of Spatial Audio.
Android 13 includes built-in Bluetooth Low Energy, which enables simultaneous multi-device music streaming with improved sound quality and lower latency. In Android 13, the media player shows album art, and the playback bar dances to the music. It is made abundantly clear when comparing Android 12 and 13.
Privacy and Permissions
Security and notifications have seen some major updates in Android 13, which stands out compared to Android 12. Improvements to notification permissions and privacy give you more control over which apps can send messages, access your media, and copy text from the clipboard. 
Like on iOS, apps on Android now need your permission before sending you notifications. A mobile app's Privacy settings are where you can decide whether or not to enable the app to send you to push notifications, either before or after you install the app. It's smart to watch your favorites and allow them to send you push notifications if needed.
Nearby Device permission for Wi-Fi
Google is improving how Nearby Wi-Fi access is granted to apps. Until recently, apps need Wi-Fi and location permission to search for nearby devices. But that's about to change with the release of Android 13. Apps used to require access to a user's location to detect nearby Wi-Fi access points, but that has changed with the introduction of the NEARBY WIFI DEVICES runtime permission.
The next logical step for Google's Material You aesthetic is to be applied to app icons. The icons of apps can now be customized to match the wallpaper and color scheme currently in use by the user. Exciting new features have been added to Android 13 that can be seen in the image to the right, which shows how the icons of apps will now behave. It used to be that app could only customize their user interfaces to match the Material You theme. For icons to be altered dynamically based on user preferences, Google proposes that developers update the adaptive XML and utilize a monochromatic app icon.
Clear Calling
With Clear Calling, you can hear and understand callers more easily, even in a busy environment. The feature is now exclusive to the Google Pixel 7 and Pixel 7 Pro and may be enabled in the settings menu under the Sound & vibration heading.
Free VPN for Pixel 7
It is another feature neither the Pixel 7 nor the Pixel 7 Pro provides. Users of the new Google Pixel and Pixel XL will get free access to the same Google One VPN available to paying customers. It's a great technique to stay anonymous on public Wi-Fi, but you still won't be able to change your IP address.
Better battery stats
After updating to Android 12 or 13, Pixel phones no longer display battery life statistics compared to the most recent full charge. In its place, smartphones would only provide the user's average battery life for the previous day. The first Feature Drop for Android 13 reverts to the older approach of presenting battery data since knowing which apps or processes drained the battery faster at any given time is more useful.
Android 13 notifications are now opt-in.
Android's notification handling and display have always been more polished than iOS's. But, there is a part of Apple's ecosystem that is very helpful. For applications to notify you of anything, they need your explicit consent.
On Android 13, notifications are disabled by default, so any apps you install will need your explicit permission to send you alerts. It only affects apps installed after the upgrade to Android 12; therefore, updating from Android 12 should not affect how your already installed apps function.
Toggle for reverse wireless charging
Android 13's December Feature Drop will allow you to use wireless reverse charging. If your phone didn't detect any nearby accessories within 10 minutes of being plugged in, it would automatically shut off the reverse wireless charging capability.
Dynamic Material icons
This feature was previously confined to Google applications in Android 12, but third-party apps may now utilize the whole range of Material You capabilities. Third-party support means enabling Themed Icons won't transform your home screen into a jarring tangle of themes. Yet, the developer's obligation is dynamic app theming, and adoption could be faster. While prominent programs like Whatsapp and Spotify already feature Material You compatibility, many apps may still need to support this capability.
Copying text and images
Copying text or photographs on Android 13 shows a small pop-up window in the lower-left corner of your screen. Tap here to alter the text or photo, and when you're done, you may share new information right from the tool, streamlining the entire process. It automatically clears after 60 minutes, so don't worry about duplicated Material remaining forever.
Android 13 features – what's new in Android 13
An awesome handy shortcut for the QR code scanner.

Call the Assistant by swiping up from the bottom corners of the screen.

Helps exFAT files enabling Pixel devices to manage files larger than 4GB.

There's HDR video authorization on third-party camera apps.

A revamped media output switcher.

Braille demonstrates Talkback.

Smart home management in an unlocked state.

Integrated Fast Pair.

Easier tracking for people who use phonetic lettering.

Android 13 update contains a better-looking UI.
Conclusion:
Android is a Linux-based operating system that Google designed for smartphones and tablets. Because of its extensive features, Android is widely used to develop apps for televisions, digital cameras, and other electrical devices. Android is the most widely used mobile app development platform, according to more than 71% of smartphone app developers. Android is the mobile operating system of choice for around 1 billion devices. Due to Android's widespread appeal, there is a great need for Android programmers. You will learn all there is to know about creating Android apps using Java with Nschool Academy's Android training in Coimbatore.
Related Blogs: