Regular training program

Duration

Hours
Fast Track training program

Duration

Hours


Digital Marketing Course Highlights
Digital Marketing has been gaining popularity for quite some time and is currently in high-demand. Digital Marketing  is an exciting career path for both freshers and experienced individuals
Our Training Methodology
Check out our innovative key features in training methodologies. Our flexible training mechanisms incorporate all techniques right from knowledge assessment till setting placement records.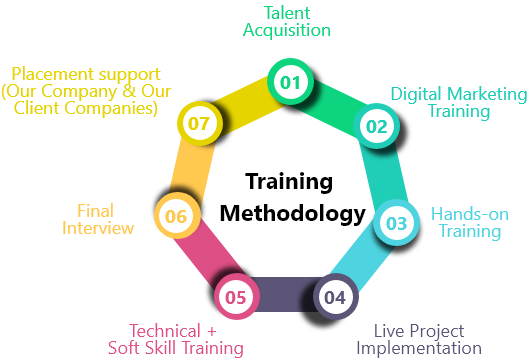 Train from professionals with industry experience


   Learn theoretical concepts and gain hands-on training simultaneously


   Real time Hands-On Practical Experience Training to imbibe corporate practices


   Get certified at the end of the training


   Receive placement support once the training is completed


   Getting exposure to latest technology up gradations.


   Advanced lab facility and most updated syllabus and materials will be provided with learning tools for easy learning


   You will have the access to contact the trainers at any time.
Tools we covered in our digital marketing course:
Social media marketing tools

Email marketing tools

SEO (search engine optimization) tools

Graphic creation tools

Conversion optimization tools

Lead enrichment tools

Landing page and lead capture tools
Digital marketing Training Institute with 100% Placement Support:
After completing the Digital marketing course, the Nschool Academy provides 100% placement assistance to all qualified students who have completed the programme. We have an active placement cell at nschool Academy where students may acquire employment in their selected professions. Through mock interviews, our academics provide critical insights into Interview Questions and How to Manage Interviews, assisting students in preparing for and handling interviews professionally and confidently. Collaboration and memorandums of understanding with small and medium-sized firms to give possibilities to launch and enhance your career.
Job Opportunities in Digital Marketing
Market Hiring Trends forecasts that the need for Digital Marketing expertise would soar based on the data they supplied. Indeed, more than 44% of all firms are now looking for a skilled marketing specialist to help them promote their company online. According to a poll conducted by Goldman Sachs, the Indian Internet Industry would be valued at $160 billion within the next five years. According to the research, it is roughly three times greater than it is presently. As Internet users have expanded in recent years, so has the digital marketing business.
Nschool Certificate Holders work at companies like :
Owning an IT Certification will certainly give you an advantage to enrich your self-image and reputation among peers. The credits of being certified are,
Enhances professional credibility.
Extends knowledge skills and prepares you more for job responsibilities.
Serves as a compact Ability proof
Solid proof for improving career opportunities.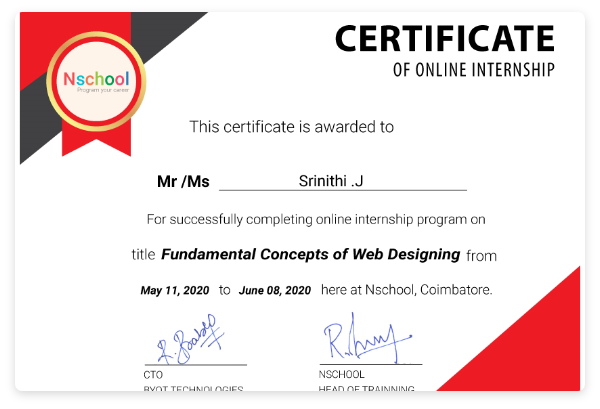 Digital Marketing course with Certificate:
The Digital Marketing Course Certification from Nschool Academy is recognized as one of the professional certifications that indicate that the candidate has a complete understanding of the Digital Marketing platform and its application to flourish in the Digital Marketing field. After finishing the course, the applicant will be able to demonstrate that they have obtained the necessary skills to begin working as a digital marketer, which will be performed through a real-time project experience presented at the end of the course. A certificate, which you submit with your CV, helps to highlight your profile during the interview and unlocks the door to a wide range of work opportunities for you
Latest technologies
Learning the latest technologies in Digital Marketing enables you to have a direct impact on your career.
Future Scope of Digital Marketer
The future of Mean Stack development is attractive. It looks promising because of the steady growth in-demand of these professionals.
Industry Growth
30% Annual Growth for Digital Marketing jobs by 2021. You could also develop an application by yourself with a Digital Marketing course.
Job Titles include
Digital Marketing Executive

Search Engine Optimization Executive

Social Media Marketing Executive

Content Marketing Executive

Web Development Executive
Job responsibilities of a digital marketer
The purpose of digital marketing is to develop successful and distinctive strategies for promoting a company's brand, goods, and services. A digital marketing professional must effectively use all marketing tools and methods, such as PPC, SEO, SEM, email, social media, and display advertising. All of the above, and more, will be included in a standard digital marketing job description:
Discover patterns and insights

Spend money on marketing.

Marketing initiatives should be strategically planned and directed.

Manage and maintain a company's website while following best practices.

Optimize the content on the website and social media channels.

Work with different sorts of information, such as blogs, videos, audio podcasts, etc.

Keep an eye on the website's traffic.

Metrics for performance should be implemented and analyzed.

ROI should be used to measure and evaluate goals.

Device experiments and conversion testing

Provide internal reports regularly.

Implement new and inventive interactions across platforms and technologies.
Proud to be Recognized
Our service for more than a decade & our IT Trainees feedback urge us to run more.
Here we are presenting exclusive NSCHOOL Academy Reviews which are given by our students who got benefited from our course training.
Related Courses
Learn new skills, pursue your interests or advance your career with our distinctive course catalogues. Our updated syllabus on the below courses cover all Industry standards as per requirements.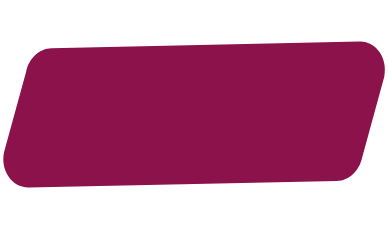 Frequently Asked Questions
Like the curriculum? Enroll Now
Structure your learning and get a certificate to prove it.