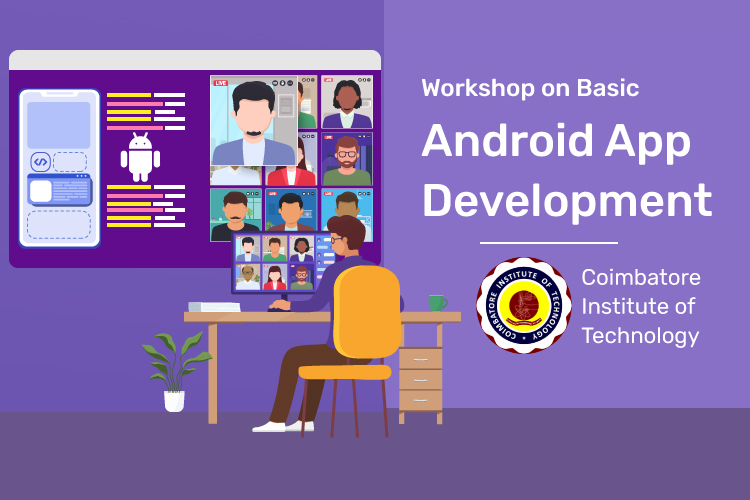 Basic Android App Development Workshop – Coimbatore Institute of Technology
Basic Android App Development Workshop in Coimbatore Institute of Technology.
It's not a big deal to tutor computer development to the core department students. But, Yes! It's a challenge to introduce and train IT development as a credit course to Non-IT students.
NSCHOOL Academy took up this challenge as a golden opportunity to prove ourselves in introducing IT Development to Civil Department students from Coimbatore Institute of Technology. Nearly 120 students attended this 6 days Android app development workshop as a credit course in getting knowledge of Android basics till the development of basic android mobile apps. Our Senior Technical lead Rajasekar K carried out this Android development workshop with strong plans and strategies. Civil students were much enthusiastic and eager to know about the development strategies and latest versions of android.
We expected this Android app development seminar would be a communicative one. The students also never failed to meet our expectations. Right from minute one till the last minute, we received continuous queries and doubts from student's end, which notified them they were trying to understand the IT development.
Initially, we started with defining android in simple words like its a software specially used in handheld devices that acts as an interface between the user and the hardware device. Then, after the detailed introduction on Android, we passed in to view the core architecture of Android. Operating systems and Networking were also explained to build a basic mobile app. The importance of Java, Android SDK, and Eclipse IDE was also preached and explained to develop the android app step by step.
This android webinar is a 6-day workshop training android development for about 2 hours. Hence, the Java programming training started on the second day of the webinar. We commenced the Java programming session by adding Java officially supports Android app development. This made students gain a keen learning interest in Java.
Our Industry specialist Developer Rajasekar practically showed the Java working concepts such as OOPS, Abstract methods, visibility control, and Exceptions along with executing sample programs. And separated students group as a team and provided unique tasks to develop them using Java functionalities. This was considered as an assessment that required to be submitted by the end of the 6th day of the webinar.
The tasks done were regularly supervised by our Course advisor Rajasekar and clarified their practical doubts and helped them to complete and submit their assessment on time. Finally, the developed apps review was done and feedback was shared with them by the end of the webinar.
CONCLUSION:
Never avoid acquiring new knowledge. We stop growing when we stop knowing. Despite the pandemic, NSCHOOL Academy maintains that learning is a continuous and never-ending method. We begin our next preaching process with the joy of planting something new in the minds of young people who will gain substantial knowledge and charge as powerful individuals in the future. We've also held hundreds of technical webinars in colleges across Coimbatore and the surrounding districts, and we intend to hold even more shortly in both online and offline formats.
For more information on professional webinars and technical seminar appointments, please contact us at contact@n-school.com. Our IT industry experts are willing to collaborate with you and help your college students develop high technical standards.