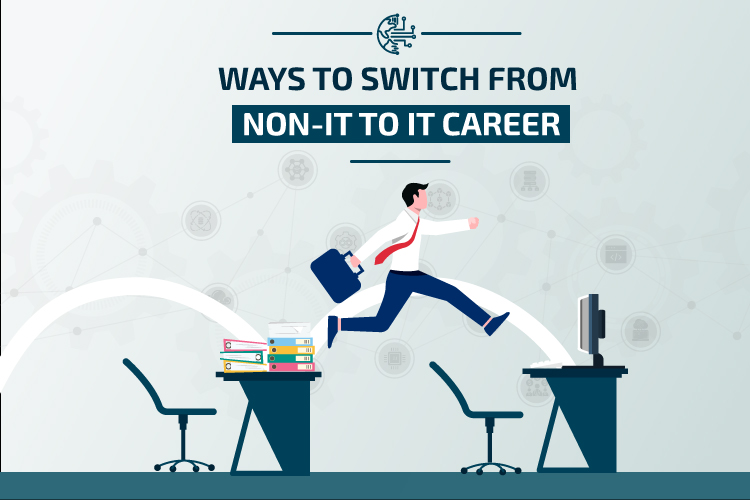 How to switch from Non-IT to IT Career
IT industry is an indestructible one and everyone wants to be a part of it. The growth of the IT sector at a dashing rate is the main reason to attract people towards it.
IT industry
also offers every role from coding to designing which employs a wide range of people. Employee benefits like meal cards, health insurance, premium memberships, travel allowance also make people want to change their career into the IT field. The high-end work environments and high pay model attracts the non-IT person to immediately jump into the IT field.
HIGH PAYING IT JOBS 2021
IT jobs require specific skill sets which you need to learn beforehand if you want to be the high paid one. Some of such jobs are,
Data scientist
IoT architect
Big data engineer
Software architect
Blockchain engineer
DevOps engineer
Cloud architect
Full-stack developer
AI engineer
Product manager
MAPPING PATH FOR NON-IT TO IT FIELD
Get certified in one of the
top IT courses
we listed above or the one in trend regardless of your educational background. Talent, eagerness to learn and courage to face the positive and negative side of learning is the most wanted traits one need when changing their career stream.
"All the dreams can come true if we dare to pursue them."
-Walt Disney.
Decide which stream of IT industry you want to enter and make thorough research about it. It consumes time but it benefits you in the long run. But after learning one skill, it won't be enough to survive as the IT industry is evolving. So, keep yourself updated from time to time.
MISTAKES ARE THE PART OF CHANGE
Making mistakes is human nature. Don't be afraid to make a bold choice to change your career stream. Research the course you choose to earn and the field you Want to enter. Once your research is done, you can get clarity about your interest and the skill best suits your interest.
"Excellence is the gradual result of always striving to do better."
-Pat Riley.
Study
C, C++
first as it is considered as the primary need to learn any programming language. Learn step by step. Don't rush or otherwise, it will become chaos and end in loss of interest. You can learn coding via the internet, getting a bachelor's degree or by joining a software course provider.
WHERE TO LEARN
The best option to learn IT industry needs is by joining a software course provider. Because all the things on the internet are not real and you can't waste four years to change your career by studying for a degree.
Software course
instructors mainly eyed practice and results. They use real-time examples to provide quick but useful training. After certified, start attending tech meetups with IT, industrial people. By attending such meetups, you can have connections with higher-end people, learn new things and showcase your talent.
GAINING EXPERIENCE
Once you learned, start to apply for entry-level jobs to gain experience. You can't earn the highest on the first go. The industry experience will give you practical knowledge about what you learned theoretically. Gaining experience is the best way to learn more.it proves your competence in the competitive job market. Most of the hiring people want
IT professionals
with experience which will benefit both the company and stakeholders. Gaining experience will help you get high paying jobs when you change your first job. Have a mentor to guide you throughout your career. Get your hands on online tools to furnish your coding skills furthermore.
BEST PAYING JOBS
SOFTWARE DEVELOPMENT ENGINEER
As a software development engineer, you are the head of
developing apps and software programs
that can be used on various operating systems and platforms. You closely work with app development and programming, solution providing and error management. Minimum 55% of marks in BE/BTech is required. Top tech companies like Amazon, Udemy, TCS etc are in demand for such professional candidates. The average base salary for a software development engineer ranges from INR 1,191,752 to INR 2,225,470 per year.
DATA SCIENTIST
Data scientist job requires expertise as it deals with scientific analysing and interpreting big data. The traditional method is not useful here. A data scientist needs to know the latest methodologies like data structures, algorithms, machine learning, programming languages like
python
,
java
, C++ etc. He also wants to work on collecting, cleaning, analysing and interpreting complex data. Bachelor's degree in computer science with knowledge in Hadoop or Big data querying is needed for this job. This flourishing high demand IT job's average salary per year ranges from INR 8,24,241 to INR 17,53,819.
DATA ENGINEER
A professional data engineer deals with
building and designing
data infrastructures. He also needs to be an expert in system architect, database design and configuration, programming, interface and sensor configuration and distributed systems. Among the high paying jobs, there is promising career growth in future of data analysis. A bachelor's degree in computer science with course knowledge in data structures, algorithms, programming languages and experience is required. You can also work in top tech companies like google, amazon etc. the average salary per year ranges from INR 8,39,625 to INR 18,78,772.
SOFTWARE ARCHITECT
The software architect development professional governs designs, tests and manages software solutions for software systems. They need to have a high level of designing skills, coding knowledge, methodologies and processes to configure any software related problems. The software architect work with both business and client-side. This unique and new demanding job have a limited workforce but multiple job options and bachelor's or master's in computer science, programming language knowledge and experience as a
software developer
is required. The average salary per year ranges from INR 21,99,698 to INR 31,38,870.
CLOUD ARCHITECT
A cloud architect manages the design, architect, implementation and maintenance of
cloud computing
components. This broad network allows delivery for services like storage, networking, database, servers, analytics via the internet without human interference. Experience in AWS, MySQL, Java, network administration, knowledge in tools like Kubernetes and Docker, data storage and security is required. This is an excellent opportunity for freshers with annual salaries ranges from INR 17,96,392 to INR 23,13,443.
CHANGE YOUR CAREER PATH NOW!
People in non-IT sectors like business development, business analyst, technical writer,
data scientist
,
digital marketing
strategist, social media marketing, management consultant, investment banker, marketing manager,
graphic designer
, customer relationship manager, quality assurance analyst, content writing/ content marketing, accounting consultant, advertising and media professionals, market research analyst etc can change their career without any hardships. So, develop your skills and get into the IT sector to earn high payments.