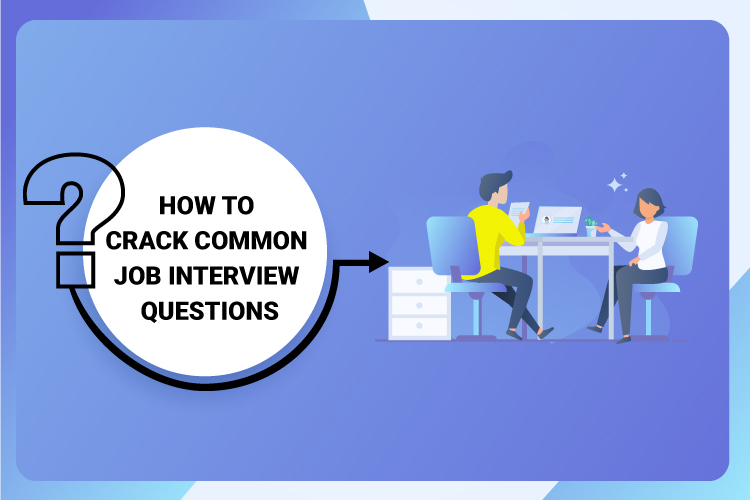 How To Crack Common Job Interview Questions
Applying for a job and waiting to get a call from them is a long process. But once you landed yourself in that phrase, everyone is confused about what will be the interview questions be like, how I'm going to face it and all. Especially during this pandemic,
zoom and google meet interviews
become mandatory. So here are the most common and sure asking questions with answers which can save you during your D Day!
TELL ME ABOUT YOURSELF!
Sounds so easy right. But not! You can't be vague about your information which creates only a dull impression. This question is asked to create a calm situation and start the conversation with a candidate. It also serves as an anchor for the next question. So, your answer should be about your current role, how you got your current job, what you are looking for in future in the applied job. Sculpt your answer according to the role you applied for. Be professional and include your passion but don't just memorise and read out your resume.
Here is the sample:
"Sure. I am currently a graphic designer at ABC, where I handle our graphics and UI designing for our websites and social media. And now I'm looking to expand my experience across different industries particularly coding, which is why I'm interested in joining a company like yours."
WHY DO YOU WANT TO WORK WITH US?
It's common but a
challenging question
everyone face during the interview process. This question helps to hire managers to hire someone who strongly believes in the company's policies and a positive one. Some may answer, I just want a job for a living which doesn't go to win your first impression. Don't say that this company pay high, I want to make a big step in my career and all. Instead, research the company before attending the interview to answer progressively.
Some examples are:
*I see this opportunity as a way to contribute to an exciting company and I feel I can do so with my …
*I'm excited about this job opportunity as it would allow me to …
WHY SHOULD WE HIRE YOU?
Answering this tricky question is an art. Be confident about yourself and answer a 2-minute long speech. Practice, rehearse and research before doing it. Your answer to this question shows the hiring manager if you are an ideal fit for this position or not.
Here is a different way to answer this question:
"I don't have many practical accomplishments to speak of because I am still in the early stages of my data science career. This allows me to explore my potential by giving my all to this organisation. It will be a privilege to work here, identifying and developing my strengths. I was also very dedicated to my academics and data science projects in college, and I always finished them on time. I was also complimented on it. As a result, I believe I am the best candidate for the role of data scientist because I am well-versed in theory and eager to learn."
HOW WILLING ARE YOU TO BROADEN YOUR HORIZONS AND LEARN NEW THINGS?
One of the most common questions we get from people looking for the next step in their career is, "Should I diversify or specialise my skill set?" It's a
difficult question to answer
because both options have differences, benefits, and drawbacks. Choosing a variety of roles in your career means you will "wear many hats" in terms of the job duties you perform. You could even be considered a "generalist" if you write web copy, manage content, run PPC campaigns, and do other things. So, now that you've learned about specialising and diversifying your chosen career path, here are a few things to consider before deciding which option is best for you: *What are your financial objectives? *In your professional life, how would you handle risk? *What is your desire for schedule control and work/life balance? *Do you want to lead/manage, or do you prefer to be solely responsible for your work?
HOW DO YOU DEAL WITH STRESS?
One common
interview question
is, "How do you deal with stress?" Because the interviewer does not want to hear that you are never stressed, you must be prepared to respond appropriately. After all, everyone experiences stress at work at some point. The interviewer is particularly interested in whether you can deal with job-related stress and what you do in particularly stressful situations at work. This is especially important if you're interviewing for a job that requires a lot of stress. This is because job stress can hurt workplace performance. The hiring manager may also wonder if you have any stressful issues outside of work that is affecting your job performance. Employers seek candidates who can deal with a variety of stressful situations, whether personal or professional. So, you may answer like
"I place a high value on pressure. Good pressure, such as having a lot of assignments or a deadline coming up, helps me stay motivated and productive. Of course, there are times when being under too much pressure can result in stress. However, I'm very good at juggling multiple projects and meeting deadlines, which keeps me from becoming overly stressed.
For example, I once had three major projects due in the same week, which put me under a lot of stress. However, because I made a schedule outlining how I would break down each project into small tasks, I was able to complete all three projects ahead of schedule and avoid unnecessary stress."
TELL US ABOUT A PROUD MOMENT IN YOUR LIFE
An employer wants to learn more about your
skills and background
during an interview. One way they might do this is to inquire about your greatest achievements. When preparing for this type of question, think about your most notable professional accomplishments. The way you approach this question can have a significant impact on the impression you make. You'll want to exude confidence, positivity, and the fact that you're the type of person who thinks carefully about their choices, implying a growth potential. Relate it to your job because it
reflects on your career
and explains how you achieved it. A way to answer this question is:
"My first editorial in The New York Times has to be the thing I am most proud of. When I was a budding journalist, the New York Times was the pinnacle of my success.
For years, I submitted pitches to their team only to be rejected or receive no response. Although this process tempered my ego a little, it taught me the value of hard work, perseverance, and dedication.
I eventually came up with a storey that they'd be interested in reading. I knew I was finally a respectable journalist when I got the call that they would fund my piece. Even though I have written far more substantial and noteworthy stories since then, this memory is the one I am most proud of."
ALL THE BEST FOR YOUR INTERVIEW!
So, these are the most common questions we ever face in any kind of interview. It's simple but needs practice and professionalism in it. If you crack those questions based on these examples, you will crack the introduction round with ease.