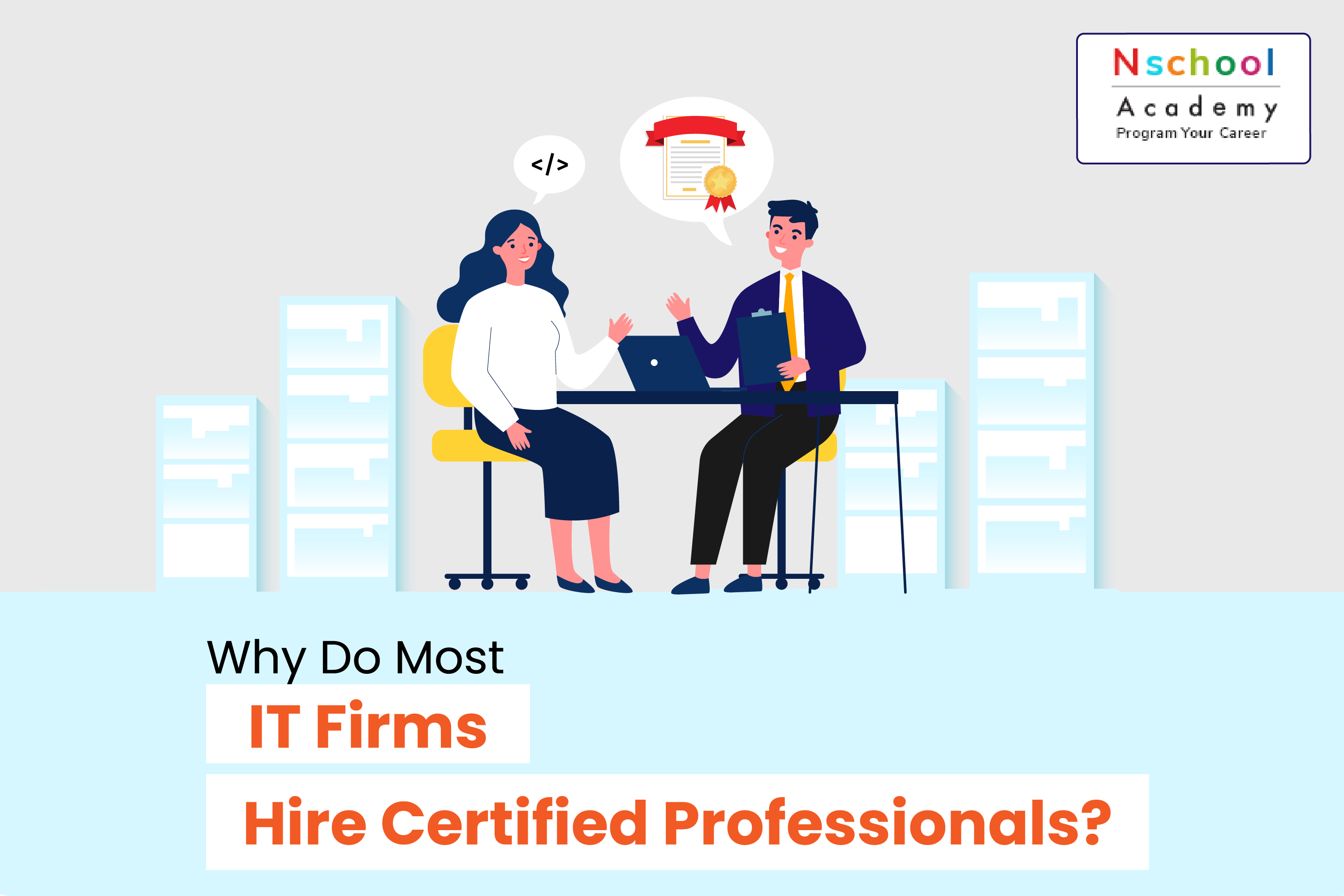 Why Do Most IT Firms Hire Certified Professionals?
Many different types of certifications may be gained by a person to prove that they are competent enough to take on a job or a task in the workplace.
Certification can lead to increased exposure, career options, and employment opportunities. As the economy becomes more specialized and complicated, having the right credentials becomes increasingly vital. Although you are confident in your abilities, how can you persuade potential clients and employers that you are the best candidate for the position? In the majority of cases, certification is the answer for those who want to advance in their careers.
From the academic path, certificates play a crucial role in establishing credibility. You will get certificates as confirmation that you have completed your school education, high school education, college, and university education requirements. Certifications can assist you in obtaining employment with companies in which you are interested and can show your expertise.

Understanding the importance of Certification
Certifications are hailed as a way to open up a plethora of job opportunities for
certified IT professionals
. The problem is that most of them have difficulty finding out how to use these qualifications in a way that aligns with their aims. As a first step, it is important to understand why certificates have become so important. As a general rule, certifications are seen as the most reliable means of gaining employment in the IT industry, maximizing their earning capacity while looking for additional employment options in the job market and advancing their careers to the next level

Selecting certified experts from a pool of applicants
The information technology environment has grown, and with it, the thinking of the business community. Employers don't search for people who are highly trained and well equipped in today's world. They would want to see proof of the certified IT professional's abilities rather than the words. Relevant certifications are mandatory. These certifications assist them in identifying the most qualified candidates who will work with the firm to keep up with the ever-changing industry. More than on-the-job experience and quality of experience, recruiters are on the lookout for certificates these days, particularly those that are relatable to the needs of the company's current projects and projects in the pipeline

New employee's professional credibility
While recruiting new certified IT professionals, those with certifications and credentials stand out from the crowd. Employers may be confident in the skill levels of their employees because of the inherently beneficial character of such industry-specific certificates. Several distinguishing characteristics of the best certification programs will explain why companies like them so highly, such as,
● Accurate objectives and criteria for the project
● Curriculum with degrees of customization
● Expected knowledge and skill sets at the end of the course
● Appropriate evaluation criteria
●Hands-on projects for specific curriculum
One of the most valuable aspects that demonstrates the value of certification for a new candidate is professional credibility. After earning a specific credential, you may immediately work on your expertise by receiving more certificates from the same vendor. If you're an AWS Certified
DevOps Engineer
or Azure Certified Solutions Architect, no one will dispute your talents. Additionally, obtaining these certificates demonstrates your dedication to continuing your professional growth. Furthermore, many firms assist workers who want to get certificates that will help to establish their reputation.

Existing employees's upskilling benefits
Companies have discovered crucial skill gaps in their current teams that are primarily responsible for stumbling blocks to advancement in existing employees. Employers urge that employees enroll in professional certification programs to close these gaps and improve the team's overall performance. Certifications may also be a lifesaver for current workers. When the company combines with other companies to work in cross-functional teams, additional obligations arise.
In such situations, senior management often finds it difficult to employ new certified IT professionals with the necessary abilities and to allow them to train and upskill the existing workforce. A more practical option, which is recommended by the experts, is to have in-house certified IT professionals who are already qualified in the most recent technology.
According to the World Economic Forum, by 2022, 54 percent of all workers will need considerable upskilling to remain competitive. Many businesses have already committed to providing ongoing training to existing workers to help them gain the skills necessary to meet the changing demands of their positions. Workers typically gain sophisticated digital abilities as a result of this procedure, which allows them to be promoted to jobs that are in great demand.

Top certifications, productivity and competitive advantage that employers are looking for
● Ensure the certification will benefit your career and the current job market before committing to it. IT Service Management and the service lifecycle have been explained to IT certified professionals in a way that has helped them make better business choices. They have discovered that the ITIL® principles have helped them to increase the efficiency of their processes on an ongoing basis.
● Agile and Scrum, and the Project Management Professional (PMP) certification, are two more highly regarded credentials. Agile is a remarkable improvement over the old waterfall approach, which has transformed software development projects throughout the globe.
● On the other hand, the Project Management Professional (PMP) certification is the most well-regarded certificate for project managers who deal with several teams. With the help of this tool, projects were completed on time. It also reduces risk factors and saves money.
● Another important point that demonstrates how certifications benefit firms is the benefit to certified IT professionals. Professional certificates may assist people in improving their ability to do a specific profession. As a result, firms might benefit from qualified personnel in the form of increased productivity.

Certifications, security and advancement in career
However, obtaining a certification does not guarantee success in the IT field. Certifications and credentials alone aren't enough to tell whether an employee is qualified for a job position. Soft skills, technical abilities, critical thinking, and problem-solving skills are only some of the additional talents required to succeed in the corporate world. Employees should ensure that the certificates they choose are up-to-date and in line with current industry trends, as well. Because in the end, only those with suitable credentials and experience will be selected by the employers. Ultimately, qualified professionals are the driving force behind major organizational change.
Another element demonstrating the value of certification for seasoned workers is the availability of promotions. Individuals who wish to advance up the corporate ladder or get a better job with a better income must improve their skills. Certification aids in the acquisition of new technologies, skills, and talents required for a given advancement. Earning a new or advanced certificate in a specific area of expertise may help you develop your career.

Why is certification important?
The significance of certification for new and experienced applicants is similar and, in many circumstances, overlaps. However, the most crucial consideration when selecting a certification course is appropriateness. Individuals should follow their hobbies and preferences to locate the best certification courses for themselves.
Adequate preparation and dedication to getting the required certification should be the next major issue on the minds of readers. Another critical issue to consider in this context is the selection of relevant sources for learning materials and resources. After all, the certification has a lot to do with an individual's job, and you cannot roll a dice on it.

About Nschool
Since 2008, NSCHOOL Academy has been a real leader in training and software development, and it is devoted to the thriving student community. It was established in the Coimbatore IT training center to help students advance their professions. We currently believe we've reached that milestone, with over 2000 students working as software engineers in the IT field. This is only possible due to the support of our dedicated students and instructors.
The best-performing students are recognized throughout their course and are employed directly by BYOT Technologies, our parent company. By using this technique, and giving successful placement training, we shine as an IT training college in Coimbatore. NSCHOOL Academy is dedicated to helping you achieve your developer goals. You imagine it, and we will make it a reality.