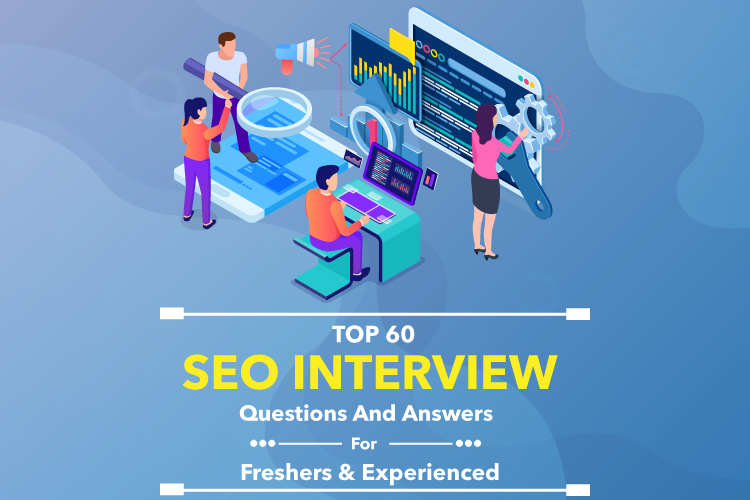 Top 60 SEO Interview Questions and Answers for Freshers & Experienced
Digital marketing has emerged as one of the most promising career paths in today's world, with SEO being the most in-demand talent. In reality, areas like SEO, social media, and analytics are expected to generate more than 150k jobs in the next few years. If you're looking to land your dream job in SEO, whether you're a newbie or a seasoned pro, the following interview questions will help you gain a thorough understanding of the most frequently asked SEO questions. Here's a short rundown of what to expect during your SEO interview to save you time and effort. Well, this composition is divided into SEO interview questions for freshers and experienced professionals to gain a better understanding. Crack and settle in your dream job by going through the below SEO interview questions and answers 2021.
SEO INTERVIEW QUESTIONS FOR FRESHERS
1. What is the abbreviation of SEO?
SEO is abbreviated as Search Engine Optimization
2. Explain SEO?
Optimizing your official websites through technical processes and ranking your website top on Google is the ultimate aim of Search Engine optimization. The main job of an SEO Analyst will be the same. SEO is the method of increasing the quality and quantity of organic search traffic to a website. This is accomplished by increasing a website or web page's popularity on a search engine without having to pay for it.
3. What do you mean by a search engine?
A search engine is a software device that searches the internet for relevant information on a specific question posed by an Internet user. Google, Bing, and Yahoo are the most popular search engines. Millions of websites and information are loaded in those search engine servers.
4. Name a few search engines other than Google?
The most common search engines are,
• Yahoo
• Bing
• YouTube
• Amazon
• Baidu
• Yandex
5. What is local SEO?
Local SEO is aimed at consumers and potential clients who are looking for a business's goods or services in their local area. These primarily consist of location-based questions and outputs.
6. What is Web Crawling?
Web crawling is the method of an internet bot (spider bot/spider/crawler) browsing the World Wide Web for web indexing. It visits pages through hyperlinks and copies them for processing and indexing by the search engine, allowing Internet users to search more quickly and efficiently.
7. What is Search Engine submission?
The method of uploading your website to search engines for it to be crawled and indexed is known as search engine submission. Even though search engines are smart enough to locate and index your website with ease, it is recommended that you complete the search engine submission so you will have the opportunity to submit some valuable details about your website from your end, and the search engines will warn you if your site contains any possible errors.
8. Explain SERP.
The search engine results page, or SERP, is a page that displays the results of a search engine. This is the page where users can see all of the search engine results for their queries.
9. What is off-page and on-page in SEO?
By optimizing the meta tags and descriptions, page title, URL layout, keyword density, body tags, internal linking, and images, on-page SEO ensures that the website's output enhances and improves.
Guest blogging, reverse guest blogging, news releases, social networking, and other off-page SEO activities are examples. These are carried out away from the website to encourage and improve its popularity.
10. Explain Domain name?
A domain name is an address on the Internet that allows Internet users to access your website, and it includes web addresses, email addresses, and Internet Protocol addresses. It's essentially a shortcut to your website's hosting server.
To access a website without a domain name, one must type in the entire IP address. IP addresses are numerical labels that are inconvenient to use daily.
There are two key components to a domain name:
The name of the website (g., Intellipaat)
The extension of a domain name (e.g., .com)
11. Explain DA?
Domain authority, or DA (a Moz metric), is a search engine ranking score that ranges from 0 to 100. The score indicates how well a website would perform on a search engine results page (SERP). You have a greater chance of ranking higher if your DA is higher.
12. What is a Top-level Domain?
The top-level domain (TLD) is the last part of an Internet address, such as.com,.net,.org,.co.in, and so on.
13. What is a Private Blog Network?
A PBN, or private blog network, is a set of websites linked together to improve SERP rankings. It's a form of SEO that uses black-hat techniques.
14. What are SEO tools and list some popular SEO Tools?
SEO tools examine the performance of web pages and include recommendations for achieving high SERP rankings. Some popular SEO tools are,
• Google Search Console
• Google Analytics
• Sprout Social
• Moz
15. Explain Keywords.
Through keywords, we interact with search engines. We search our relevant context in search engines using this keyword. They are linked with billions of web pages in the backend.
Keywords are words or phrases that people use to find important answers to their searches on the internet. They're often referred to as search queries. Identifying possible keywords and incorporating them into your website content will help you improve your search engine ranking.
16. How many keywords can you use in your website content?
Three main keywords and a few secondary keywords are recommended, but the number of keywords used should not seem unnatural within the text, and the number of keywords used is determined by the length of the content, page flow, keyword complexity, and other variables.
17. Explain Long-tail keywords?
Keywords may be combined with other words to create a more descriptive expression. Long-tail keywords are what they're called. Long-tail keywords can be very descriptive, so they're good for attracting high-quality traffic from people that are interested in that specific search question, and they're more likely to convert that traffic into sales.
18. What is the Bounce rate?
The bounce rate is the number of users who leave a website after viewing only the landing page and doing nothing else. It's the proportion of single-page sessions overall website sessions.
19. What is Meta-description?
After you type your keyword in Google search and hit enter, it takes you to the result page. Below every result, there would be 2 lines of description describing that title. That description is called Meta Description.
Meta names (page titles) and meta descriptions are two separate pieces of HTML code that are crucial when constructing a website. These components, similar to the back-cover blurb of a novel, will inform users of the title of the page they've landed on and include a rundown of the page when it appears on SERPs.
20. What is Keyword Prominence?
The location of your keyword on a web page is determined by its prominence. In a blog segment, for example, it is desirable to include your keyword in the post, especially in the first and last paragraphs.
21. Explain Internal links?
Internal links are hyperlinks that bind one web page to another web page within the same domain.
A well-thought-out internal linking system will assist users in accessing the website with ease. Keeping all relevant pages within two-three clicks of the home page is a good idea.
22. What is Google Search Console?
Google Search Console (formerly known as Webmaster Tool) is a free Google service that allows users to keep track of their website's health and visibility. It contains the following information:
• A confirmation from Google that a website can be found and crawled.
• Identifying and addressing indexing problems.
• Re-indexing new or modified content and showing the site's backlinks.
• Displaying the site's backlinks
• Problems with mobile accessibility, AMP, and other search features are being addressed.
• For the web, Google Search traffic data is being monitored: How often the site appears on the SERP, which unique search queries bring the site up, how often users click through for those search queries, and so on.
• Notifications and warnings about spam, indexing problems, and other issues
23. Explain 301 Redirect?
A 301 redirect is a way of permanently redirecting users and search engines from an old URL to a new URL. If a webmaster needs to redirect from one URL to another for several reasons, 301 is the best choice since it moves the bulk of link juice from the old page to the new page.
In terms of transferring authority and enhancing SEO, 301 is superior to 302 or other JS-related redirects.
24. Explain Forum posting?
One of the off-page SEO strategies is Forum Posting. You may join a forum and start a new thread, or connect with others on an existing one, to have online discussions about various topics. This is a good way to get people to connect back to your website.
25. What is PPC Technique?
PPC (pay-per-click) advertisement is a form of advertising in which the advertiser pays the publisher when the ad is clicked. You only pay when users click on your ad, which helps push traffic to your website.
26. What are the qualities of an SEO Manager?
To upgrade the website, implement SEO initiatives and campaigns.
Obtain leads
Project and campaign success should be tracked and reported on.
Team success should be tracked and the team should be directed.
Improve the website's output
Fill in the gaps in your content and keep track of your KPIs.
Excellent communication skills are a must.
Collaboration with other teams is a must.
27. Explain RSS Feed?
RSS is an acronym for Really Simple Syndication. The method of sending RSS feeds to an RSS submission directory is known as RSS feed submission. Users may keep up to date on various blogs, websites, and news outlets from a single location, which is convenient. RSS's usability is now severely restricted, and people's content consumption habits have evolved.
28. What is Google Algorithm?
The Google algorithm is a set of rules that assist the search engine in finding appropriate search results for a user's search query on the internet. It rates a web page for unique keywords based on a variety of factors. Every year, they are revised.
29. What is Google Penalty?
When websites are found to violate some Google rules, Google executives manually penalize them. When such violations occur, Google Search Console sends out notifications. It is best not to be penalized in the first place because lifting the penalty requires too much time and effort.
30. What is Google Analytics?
Google Analytics is a free web analytics tool that monitors and analyses a website's results. GA's main goal is to assist you in making informed decisions on how to boost your site's success, increase traffic, and generate revenue.
SEO INTERVIEW QUESTIONS FOR EXPERIENCED
The above explained the overview of basic technical concepts. Herewith, you'll get a detailed scope of answering the top 30 scenario-based questions in SEO.
1. How will you rank your website on Google?
The Google ranking factors will help you get a website to rank on Google. Google ranking factors have an impact on where the website appears in the SERPs. The higher your Google score, the more visible your website would be. The most significant Google ranking factors will be, user optimization, quality content, quality backlinks, mobile optimization, page speed, domain authority, social signals, HTTPS, schema code, etc.
2. What is the working process for BERT Algorithm?
Bidirectional Encoder Representations from Transformers (BERT) is an acronym for BERT. BERT is a Deep Learning algorithm for Natural Language Processing that helps Google to find out what words mean in context. It may perform tasks such as object identification, question answering, and part-of-speech tagging.
3. How do you see the list of pages indexed by Google?
Google Search Console keeps track of the pages it indexes. You can also manually scan the list of all pages indexed using Google Search operators.
4. What do you mean by E-A-T?
E-A-T stands for Expertise, Authority, and Trustworthiness, and it is listed in Google's Quality Raters' Guidelines to ensure that any website takes E-A-T into account when obtaining a high ranking.
5. Explain SEO Audit.
The method of assessing the health of a website and assisting in its improvement based on the findings is known as SEO auditing. It has many parts, including on-page, off-page, and technical SEO audits.
6. Explain AMP.
Accelerated Mobile Pages, or AMP, is an open-source project aimed at making web pages load faster. According to Google, AMPs load in under a second and use ten times fewer data than normal mobile sites.
7. What do you mean by the Rich Answer box?
Rich Response Box is a Google feature that provides users with clear and precise answers to their search queries. A box at the top of a SERP will show the answer.
8. How can a website with millions of pages be optimized?
We can use the following to customize a website with millions of pages:
• Meta tags that change over time
• XML sitemap that is updated daily
• Internal navigation is well-structured.
9. What is Guest posting?
Guest posting involves contacting an appropriate, high-quality website and agreeing to write content for them. Using a contextual connection within the content or in your bio is a good way to drive traffic to your website.
10. How can we increase the frequency with which search engines crawl our site?
We can increase the frequency of crawling by regularly updating our pages, adding fresh content, removing unnecessary pages, obtaining quality backlinks, ensuring that the server is up and running, updating sitemaps, and so on.
11. What is the purpose of the model comparison tool?
Attribution models can be used to determine which marketing channel is best for a company. The model comparison tool will enable the company to compare three different attribution models and assess the impact on how it evaluates its marketing channels.
12. What do you know about the Panda update?
In 2011, Google released the Panda Update. It penalizes or de-ranks web pages that lack valuable content or have duplicate content.
13. Explain Penguin update?
The Google Penguin Update was released in 2012 to identify sites with spammy backlinks and sites that use some other black-hat linking techniques.
14. What is the Hummingbird update?
The Hummingbird update is a Google Search algorithm that was launched in 2013 to make searches more context-driven rather than keyword-driven. Google now knows more about the intent of the keywords than just the keywords themselves.
15. What is the Mobilegeddon update, and what does it entail?
Since the number of people using Google on mobile devices has increased dramatically over the years, the Mobilegeddon update focuses on a website's mobile-friendliness for better SERP rating.
16. Explain Google Pigeon.
In 2014, Google released the Pigeon update, which prioritized local search results (location and distance are the key aspects of the search strategy here).
17. Explain Event Handling in SEO.
In Google Analytics, downloads, mobile ad clicks, flash elements, and video plays can all be predefined and tracked as "events."
18. How to improve the quality of landing pages?
We will boost the consistency of the landing page by implementing the following:
• Page load time has been cut.
• An effective headline
• A motivational tagline
• User experience has been improved.
• Content that is fresh, exclusive, and of high quality.
• CTAs that are easy to understand
• There are no unnecessary connections, so navigation is easy.
• Symbols of confidence
• Relationship between brands
• Simple lead generation form
• Sticking to Google's guidelines
19. In Keyword Reports, what does it mean when data is "not provided"?
To protect user privacy, Google modified the way it gathers data from searches in 2011. After that, the Google Analytics Report does not contain the keywords that lead to a particular landing page.
20. Explain Disavow tool?
Publishers may use the Disavow tool to inform Google that they don't want such backlinks from external domains to be taken into account when determining their site's ranking. This tool can be used by publishers if their backlinks aren't trustworthy or adding value to their website.
21. Explain Google Knowledge Graph.
On SERPs, Google Knowledge Graph displays a graphical presentation of information related to search queries. It's a semantic search result that was compiled from various sources.
22. Explain Google Fetch.
Google Fetch lets you see if a Googlebot can access a web page, how it makes it, and if any page resources are unavailable to the bot.
23. What do you mean by robots.txt?
Robots.txt is a text file that tells web crawlers which pages on your site they should crawl and which they shouldn't.
24. Explain Sitemap in SEO?
It contains a list of web pages as well as the pace at which they are updated. It's also known as an XML (extensible markup language) sitemap, and it's only intended for search engines. The search engines would be aware that essential pages should be crawled and indexed regularly as a result of this.
25. Tell me about HTML Sitemap?
An HTML sitemap is a page on which all of your website's subpages are identified. It is useful for navigating large websites with numerous subpages. HTML sitemaps are usually found in the footer of websites.
26. Explain Canonical URL?
If a page has several URLs or identical content (e.g., pages with both mobile and desktop versions), Google will treat them as duplicates and choose one to crawl as the canonical version unless you specify the canonical URL.
27. What are some Google Analytics Reports?
Main Google Analytics Reports are as below,
• Reports in Real-Time
• Audience Surveys
• Reports on Purchasing
• Reports on Behavior
• Reports on Conversions
28. What is Schema Markup?
Schema Markup is structured data that you apply to your website so that search engines can better understand it and provide more detail to users on SERPs. Although the rich snippet does not boost the website's search ranking, it does increase the CTR of the listing, which increases the ranking in the long run.
29. Explain Contextual Backlinks.
Contextual backlinks are links in the body of the material that is surrounded by text. Contextual links have a higher perceived value than links in the header, footer, or sidebar.
The most important backlinks are contextual links, which are difficult to obtain.
30. What is What Hat and Black Hat SEO?
White-hat SEO is a form of SEO that adheres to search engine guidelines. It does not mean using dubious techniques to exploit search engines to rank higher.
Harassment SEO goes against search engine rules and manipulates search engines to boost search engine rankings. A website can be penalized if it is found to be guilty of keyword stuffing, cloaking, link exchange, link farming, PBN, purchasing links, link hiding, using doorway or gateway sites, and so on.
CONCLUSION
This detailed blog guide to SEO interview questions and answers is exactly what you need to review before your search engine analyst work interview. Of course, your realistic experience will aid you in mastering the interview by the above demonstrated top SEO interview questions 2021. Visit our NSCHOOL Academy Digital Marketing Certification course at https://www.n-school.com/digital-marketing-training/ to lay a strong foundation for your SEO Career. This is merely a good primer on what you already know. Best wishes!