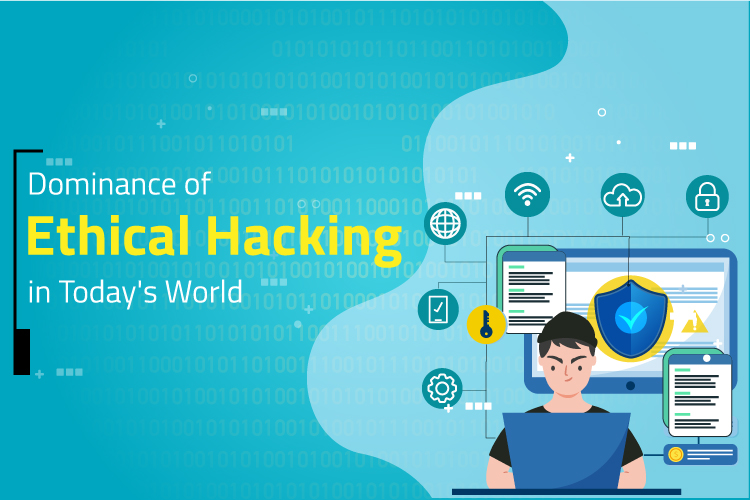 Dominance Of Ethical Hacking In Today's World
We are all aware of Hacking and its consequences. As a Common man, we know Hacking is a serious cybercrime. In simple words, Hacking is unwanted intrusion with un-authorized access to one's system with an ultimate goal to steal files and system/personal details. Hacking is the Art of Exploitation. Hacking usually leads to a huge amount of financial and information loss which causes human stress.
If this serious is Hacking, Then what about Ethical Hacking?
ETHICAL HACKING:
First and Foremost, Let us inform you of 1 major difference between Hacking and Ethical Hacking.
Hacking is ILLEGAL whereas Ethical Hacking is LEGAL.
Ethical Hacking is evaluating the client's or target system performance by intruding with the client's PERMISSION to correct and validate bugs. It corrects the hacked features and provides many ways to work as normal. The ethical hacking process is not meant to steal information or financial asset from the targeted machine. This is carried out with sole Ethics in Business.
HACKER
: Hacker is a person who enters into another's system with unauthorized access, intruding the system to steal their information and cause threats in a harmful way.
Hacking complaints must be reported to the Cybercrime Department only.
Anyone with great programming or coding knowledge can become a Hacker. The capabilities of a Hacker are,
-Very expert in all Coding technologies.
-Hackers usually have an intent to damage other systems and networks to earn tones of money shortly.
-Good Imaginative power and Multitasking talent.
Usually, hackers do hack for Fun, show-off, cause harm or threat to others, and to find a short cut way to earn more money.
But Ethical Hackers are business professionals having the opposite intent of Hackers. Ethical Hackers are completely trustworthy and work for the safety purpose of clients. They too possess strong Programming and Computer Networking Knowledge. Ethical Hackers very well knew the entry point of Hackers. So they completely block the passage and save the network and device.
IMPORTANCE OF ETHICAL HACKING
Now, let's see the importance and significant features of Ethical Hacking in today's modern technology. Ethical Hacking is used mostly in the below domains to safeguard their highly confidential information.
Application Testing:

This is usually performed to hide the flaws or defects in the system at the very first stage or logical level

Remote dialing:

Remote dialing tests modem connections that are open-ended. These remotely connect users to a network

Local network testing:

Testing and validating services, protocols, system devices, and virtual private networks (VPN) is termed as Local Network Testing.

Wireless security:

Wireless security protects our Network from any unauthorized access or devastation to our computer systems including personal or official data using wireless networks like Wi-Fi.

System hardening:

System Hardening is the mechanism of securing and safeguarding our system's configuration and settings to minimize IT attacks. System hardening is a must feature to be done in all physical machines to reduce the attack surface and attacking vectors where attackers try to hurt system configurations and perform malicious activity.

Stolen laptop:

Employees official or personal laptop could be stolen away easily for the purpose to steal and hack passwords, official secrets, and personal data

Social engineering:

Social Engineering is a dangerous sequence performed by stealing usual information and predicting or manipulating a user's behavior. This is a tricky job but gives hackers the thrill to experiment with it.
Now let's see about the needs for Ethical Hacking in detail.
NEEDS OF ETHICAL HACKING
Nowadays, Ethical hacking is used as a standard process to check and analyze the systems security and its related programs of an organization. It runs alongside security judgment, intrusion testing, Red Teaming, and vulnerability checks. Below are the important points that help you understand more about ethical hacking and its requisites.
While hacking the affected computer system, Ethical hackers usually tend to play like a Security expert. They intrude into the affected systems and basically work to detect risks, bugs and check if any illegal access for the same. They seriously have to meet two obstacles – Threat and Vulnerability.

Ethical hacking follows the safety procedure and parameters of secured hacking for the systematic and structured working of the system. This is a tough and methodical procedure. And so, the ethical hacker must possess much greater skills as compared to

penetration testing.

Ethical Hacking is very easily accessible in many MNC's and organizations, to confront illegal practices of breaching system data and hence to take protective actions on hackers.

Some Threatening software like Trojan horses, Viruses and even Spam email causes process interruption and disturbance in the system and its storage space. Ethical hacking helps to fight against these threatful viruses by providing its related software that is built-up with high-level security.

The main goal of Ethical hacking is to promote safety standards in the developing wireless infrastructures which represents the ultimate aim of most of the current business companies.

Finally, concluding with the main point. Ethical hacking has the privilege and access of getting authorized access to the requested organization network and information system. This soon grants security to any logical attacks and threats like viruses by setting up an anti-virus software.

Ethical hacking finally ends up with testing the security levels of the underlying programs and software analyzing if any defects and malicious threats are hiding inside.
We'll provide you some general tips to protect and maintain a hacked system.
-Shut down your system immediately.
-Network must be separated from the system as soon as possible.
-Backup your system with restoring facilities.
-Un-install all the web applications and re-install only if checked normal.
-With no Hesitation complaint a case to the cybercrime department immediately.
Nowadays in the Modern World, Youths including IT professionals are getting aware of the advantages of Ethical Hacking. It is essential to get to know about the Ethical Hacking tools that ethical hackers use professionally. Some popular tools include,
-John the Ripper
-Metasploit
-Nmap
-WireShark
-OpenVAS
-IronWASP
-Nikto
-SQLMAP
-SQLNinja
-Canvas
-Ettercap
-Reaver
-AirCrack-ng
-Wapiti
-Maltego
We have to note that each tool is working under different Technology like Java, XML, and PHP. Hacking and Ethical Hacking equally contribute an ample amount of money as profit. Many programming experts silently take up Hacking and Ethical Hacking is an evident truth. They want to experience the thrill and make more money secretly! So seeing the valid interest of many Youths, many Training centers across India have started providing Ethical Hacking as a Course itself. Students with or without Graduation (Higher Secondary grade) are eligible for
Ethical Hacking Certification
.
Go through the major Hacking incidents that happened around the globe with top IT giants! The below organizations are the global leading companies whose data and secrets were hacked/breached recently.
Adobe

Adult Friend Finder

Canva

Dubsmash

eBay

BigBasket

Heartland Payment Systems

LinkedIn

Marriott International

My Fitness Pal

NASA

NetEase

Sina Weibo

Yahoo

Zynga
CONCLUSION
Upon seeing the above shocking hacked information, one might know the seriousness of security breaches happening around the globe per day. Even NASA, ISRO, and Instagram fall prey to it. According to a recent report on May 2020, about 37% of cyber-attacks are recorded in the first quarter of the year in India. So, Cybercrime will eventually look out for Ethical Hacker's help.
Now, any fresher reading this can imagine and understand the scope of Ethical Hacking in the current world as well as Future IT Safety. Hence never, hesitate to enroll in this Ethical Hacking Course. Its scope and profit (Salary) are huge as said before. Ethical Hackers are very much ready to save the IT world from Hacking thefts. It still requires more professionals like you. Enroll in our NSCHOOL
Ethical Hacking course
and check other blogs for reference too.