Python Development Training Course in Erode
Python is an Object-oriented, high level and multi-purpose language. It is very easy to learn and can be interpreted to more number of Operating Systems including Unix based systems. In addition, Python makes debugging easy because there are no compilation steps in Python development and the edit-test-debug cycle is very fast. Also, Python is easier to learn and has simple syntax so it is the most preferable language. Most of the Organization prefers Python because of its incredible features. NSchool Academy is the best Python training Institute in Erode.
Become an expert at Python programming with our (NUMBER) part course. Find the best Python programming course for your needs, from Python web development to Python data science. Learners will be introduced to the world of Python, the most widely used programming language through a step-by-step process that begins by highlighting the basics including databases and the core data structure. This is followed by imparting insights on how to use the built-in data structures to deal with business complexities.
KEY FEATURES OF PYTHON DEVELOPMENT COURSE

  You will have a comfortable training environment for this beginner-friendly and user-friendly  program.



  Our well-trained staffs teach you the creation of GUI by using python programming.



You will be taught about the technique of game designing with realistic scenario examples

  We will guide you to develop a live project using python's inbuilt packages and libraries.



You will be taught with a clear understanding of designing a complete web application by Django Framework



Learning Python's advanced concepts helps you to take knowledge in the field of Data Science, Artificial Intelligence, and Machine Learning and sustaining there
WHY PYTHON DEVELOPMENT COURSE?
This Python Development Certification course is designed to give you an essence of front-end, middleware, and back-end web developer technologies. You will learn to build an end-to-end application, test and deploy code, and know how to use Django framework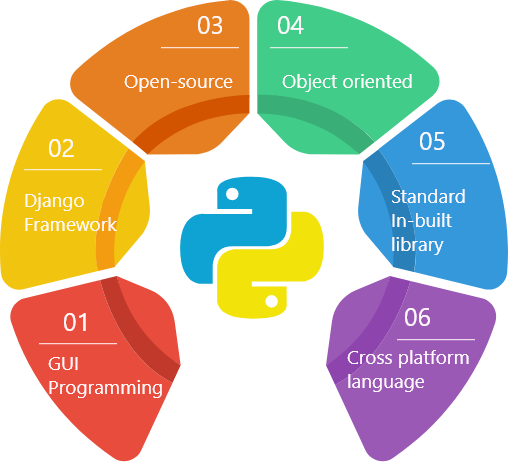 Learn to visualize, design and implement the acquired Python coding skills to develop web and game applications. Python online Training Course will teach you the basics of Python, data operations, conditional statements, etc

   Train from professionals with industry experience



   Learn theoretical concepts and gain hands-on training simultaneously



   Real time Hands-On Practical Experience Training to imbibe corporate practices



   Get certified at the end of the training



   Receive placement support once the training is completed



   Getting exposure to latest technology up gradations.



   Advanced lab facility and most updated syllabus and materials will be provided with learning tools for easy learning



   You will have the access to contact the trainers at any time.
Book Your Free Demo Class Today!
Enhance your decision-making skills from our Free Trial Lessons at NSCHOOL Academy.
WHY NSCHOOL ACADEMY FOR PYTHON DEVELOPMENT LEARNING?
NSCHOOL Academy's Python Development program provides extensive hands-on training in front-end, middleware, and back-end technology skills along with phase-end and capstone projects based on real business scenarios

Trainers are certified professionals with over 9 years of experience in their respective domains.
Trained more than 500+ students in a year.
Trainers teach the students to learn the practices employed by the top IT companies.
Have experienced multiple real-time projects in their Industries
Industry-experts and subject specialists who have mastered running applications provide Best Python Development training to the students.
We have restricted the batch size to empower students to have great understanding and communication between our trainers and students.
Strong Theoretical & Practical Knowledge
Well connected with Hiring HRs in various companies.
Expert level Subject Knowledge and fully up-to-date on the real-world industry applications.
Trainers also help candidates to get placed in their respective company by Employee Referral / Internal Hiring process
Interactive online training classes permit complete interactivity between the student and the trainer.
Prerequisite
There are no technical requirements to join the Python training course as the basic programming topics are covered here