Python Training in Coimbatore
Nschool Academy's Python Course in Coimbatore is a comprehensive program designed to specialize in crucial programming concepts such as Conditional Statements, Syntax, Strings, Shell Scripting, Error Handling, Data Operations, Web Scraping, Loop Statements, and Lambda functions under the management of real-time Python Programmers. During this Python Training program, you will also be well-versed in the widely used Python Web Framework Django, which you can implement in real-world projects and programs like a professional Python Developer!
Python programmers are in high demand. Learn Python Programming Language from Beginner to Advanced Levels that are built explicitly with realistic, real-time Scenarios to fulfil the needs of the Industry. The best course content with hands-on Python Course in Coimbatore for guaranteed placements.
Python Training with graphical user interface and Django Framework
The Python with Django Training in Coimbatore at Nschool Academy is meant to teach you to be an expert in Python Django Framework Development and to construct real-world web apps. This Best Python course in Coimbatore will guide you on using the Django framework, Django REST framework, Django Models, Django AJAX, Django jQuery, and how to parse data in XML and JSON formats. This instructor-led class was developed by top industry professionals and will qualify you as a Django Developer.
When a user accesses your program or website, he sees and interacts with the Graphical User Interface (GUI). A decent user interface helps your platform's reputation and user count. A user interface often comprises a slew of visual components such as icons, buttons, images, displayed text, and various input means such as checkboxes, text input boxes, and so on. Our Nschool Academy specialists are here to assist our students who are trying to locate the ideal framework for constructing interactive GUIs using the various GUI frameworks Python offers.
KEY FEATURES OF PYTHON TRAINING

Python Real-Time Projects
.
Our Nschool Academy offers Python real-time project training. This live project Development covers modules such as Numpy, Scipy, Matplotlib, SK-Learn, and Pandas Machine Learning Algorithms.

Learn From Industrial Experts
.
Only highly skilled Industrial Experts can make highly skilled developers. We are the best Python Course in Coimbatore, India, from Industry Experts at Nschool Academy.

Flexibility
Nschool Academy offers a unique 1-on-1 technique; you may begin instruction on any day, including weekends and 2-3 hour periods. Python courses are guaranteed to run and come with guaranteed placement assistance.

Lifetime support
24/7 Lifetime Assistance Trainer with 9+ Years of Experience in an IT Company Get Hands-On Python & Django Training in Coimbatore from the Best Python Training Institute
with a 100% Job Placement Guarantee.
Why Learn Python Course ?
Python has a reputation for being a beginner-friendly language, having surpassed Java as the most frequently used beginning language because it handles most of the complexity for the user, enabling novices to concentrate on thoroughly learning programming ideas rather than minute details. Because of its high-level, built-in data structures, dynamic typing, and dynamic binding, Python is famous for server-side web development, software development, mathematics, and system scripting.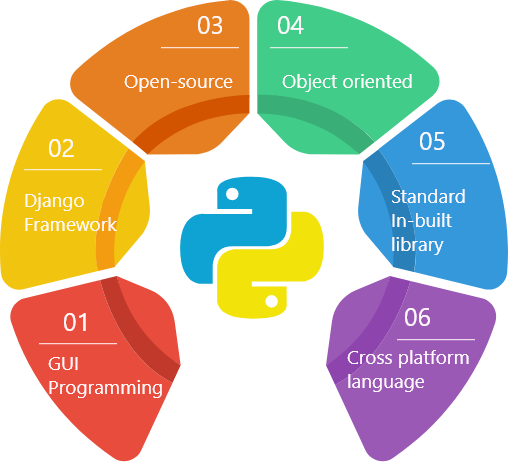 It is also widespread for Prompt Application Development and as a scripting or glue language to tie existing constituents. Python's easy-to-learn syntax and emphasis on readability minimize program maintenance expenses. Furthermore, Python's support for modules and packages helps modular programming and code reuse. Because Python is an open-source community language, many independent programmers constantly develop its libraries and features.

   Train from professionals with industry experience

   Learn theoretical concepts and gain hands-on training simultaneously

   Real time Hands-On Practical Experience Training to imbibe corporate practices

   Get certified at the end of the training

   Receive placement support once the training is completed

   Getting exposure to latest technology up gradations.

   Advanced lab facility and most updated syllabus and materials will be provided with learning tools for easy learning

   You will have the access to contact the trainers at any time.
Book Your Free Demo Class Today!
Enhance your decision-making skills from our Free Trial Lessons at NSCHOOL Academy.
WHY NSCHOOL ACADEMY FOR PYTHON COURSE IN COIMBATORE?
NSCHOOL Academy's Python Development program provides extensive hands-on training in front-end, middleware, and back-end technology skills along with phase-end and capstone projects based on real business scenarios

Trainers are certified professionals with over 9 years of experience in their respective domains.
Trained more than 500+ students in a year.
Trainers teach the students to learn the practices employed by the top IT companies.
Have experienced multiple real-time projects in their Industries
Industry-experts and subject specialists who have mastered running applications provide Best Python Development training to the students.
We have restricted the batch size to empower students to have great understanding and communication between our trainers and students.
Strong Theoretical & Practical Knowledge
Well connected with Hiring HRs in various companies.
Expert level Subject Knowledge and fully up-to-date on the real-world industry applications.
Trainers also help candidates to get placed in their respective company by Employee Referral / Internal Hiring process
Interactive online training classes permit complete interactivity between the student and the trainer.
Prerequisite
There are no technical requirements to join the Python training course as the basic programming topics are covered here