IOS Development Training Course in Erode
In this fast-moving world, technology evolves new changes to satisfy the needs of people. The scope of iOS development has a great future due to the growing demand for privacy. The N-School Academy from Erode provides the best iOS Development course to hone your skills in the field of iOS development. N-School Academy provides learner-friendly courses, from the fundamentals to the advanced level, that help you to get a high-paying job in the IT sector.
Our certified iOS mobile app development course provides a step-by-step guide that will support students develop their core skills and involve them in real-time issues and projects. Preparing for this course will set you on the right approach to designing apps for iPads and iPhones. Our N-School Academy in Erode learning outcomes Fundamentals of the Swift programming language, building great user interfaces with UIKit, prototyping an interface design, responsive design, advanced navigation in UIKit, creating a multi-screen app, interacting with hardware controls, location, and sensors, Data storage with Codable, Unit testing, Delivering to the App Store.
iOS App Development with Swift, XCode, iOS SDK
The N-School Academy covers the building blocks of iOS application development in Swift programming language, development tools such as XCode, design interfaces and relations, assess their usability, and merge camera, photo, and location (GPS) information to enhance your live project. Our Program includes Swift, XCode, IOS SDK, Apple's suggested app development processes, and industry standards for mobile development. You will learn industry criteria and best practices as you enhance your knowledge of iOS development throughout this intense course.
You will be able to create mobile apps in Swift, Apple's most delinquent programming language, after completing our iOS Development course. Utilize saleable frameworks and tools like Git, XCode, UIKit, and Cocoa. UIKit, asynchronous code, Core Image, NSURLSession and JSON, Auto Layout, Source Control, Core Data, Animation, and the app submission strategy are all understood and used accurately.
Key Features of iOS Development Course
Topic-wise assignments For a deep understanding of the nooks and corners of IOS development N School Academy provides topic-wise assignments to apply your knowledge gained during the training session.
Real-life case studies
Application of technical skills in real life is the primary requirement expected by recruiters. To adapt, we provide real-life problems to solve with the acquired technical skills.
24*7 support
The N-School Academy, Coimbatore, provides 24*7 support from our team of IOS development experts to the aspirants to get their queries sorted then and there, making the learners hassle-free learning
Certification
A certificate ensures the recruiter that you are an expert in a particular domain. It accelerates your opportunity toward employment, builds professional credibility, and acts as an advanced option in your profession to get promoted to a better job. Our N-School provides developer-evaluated IOS development certification that passes you with flying colors in the interview.Job Assistance The N-School provides the best support, from the preparation of interviews to getting landed on your dream job in your dream company under the guidance of professionals in the IOS development field.
Why iOS Mobile App Development Course?
This iOS Development Certification course is designed to give you an essence of front-end,  and back-end Mobile app developer technologies. You will learn to build an end-to-end mobile application, test and deploy code, store data using JSON web services , and much more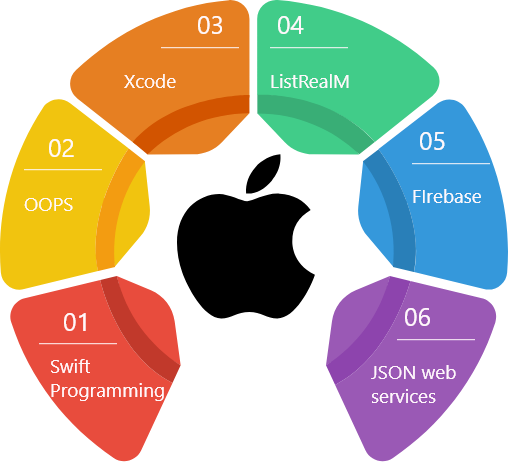 The iOS training course for iOS application development lets students build an app from scratch using Swift programming language. With the emergence of new and innovative tech gadgets, the Information Technology sector has got an innovative edge. One among them is the iPhone. There are multiple applications that can be developed for this innovative gadget which has gained a global popularity. Nowadays, there are many global companies that are quite engaged in iPhone application development as there is a great demand for it. The iOS training course provides an interactive session that allows the students to understand all about iPhone application development in an easy and informative way. The iPhone training course that we provide gives an in-depth and hands-on training of iPhone application development programming

   Train from professionals with industry experience


   Learn theoretical concepts and gain hands-on training simultaneously


   Real time Hands-On Practical Experience Training to imbibe corporate practices


   Get certified at the end of the training


   Receive placement support once the training is completed


   Getting exposure to latest technology up gradations.


   Advanced lab facility and most updated syllabus and materials will be provided with learning tools for easy learning


   You will have the access to contact the trainers at any time.
Book Your Free Demo Class Today!
Enhance your decision-making skills from our Free Trial Lessons at NSCHOOL Academy.
Why Nschool Academy for iOS Development Training?
NSCHOOL Academy's iOS Developer program provides extensive hands-on training in front-end, and back-end technology skills along with phase-end and capstone projects based on real business scenarios

Trainers are certified professionals with over 9 years of experience in their respective domains.
Trained more than 500+ students in a year.
Trainers teach the students to learn the practices employed by the top IT companies.
Have experienced multiple real-time projects in their Industries
Industry-experts and subject specialists who have mastered running applications provide Best iOS Development training to the students.
We have restricted the batch size to empower students to have great understanding and communication between our trainers and students.
Strong Theoretical & Practical Knowledge
Well connected with Hiring HRs in various companies.
Expert level Subject Knowledge and fully up-to-date on the real-world industry applications.
Trainers also help candidates to get placed in their respective company by Employee Referral / Internal Hiring process
Interactive online training classes permit complete interactivity between the student and the trainer.
Prerequisite
There are no technical requirements to join the IOS App development training course as the basic programming technologies are covered here.