Full Stack Development Training Course in Erode
Become an expert in both front-end and back-end development with our Full Stack web development training in Erode. We offer the best Full Stack development training with a 100% placement at our NSCHOOL Academy. Nowadays, mastering a particular technology isn't sufficient to survive the competition. Gain a technical edge and learn how to develop websites and web applications right from design to deployment. This Full Stack training course lets students configure servers, develop a database and build web applications using various technologies including PHP, Python, HTML, CSS, JavaScript, Nodejs and Angular 7. Learn the Full Stack and get the full stack developer certification from NSCHOOL Academy. We also offer an online Full Stack developer course. Join our Full Stack development training course at Erode and gain the best training for the development of Full Stack by working on a real time project.

NSCHOOL Academy provides Certification on Full Stack development course with placement in Erode. Also, we offer a Full Stack Development Course in Erode, at an affordable price. Courses are offered at affordable cost and some special offers are only available at NSCHOOL Academy. We are having multiple class timings which suit everyone who want to learn in their own timing. We do have fast track Full Stack Developer training and online Full Stack Developer training with one-to-one basis. In case you are having queries regarding the time, place and duration of the course you can contact our help desk.
Key Features of Full Stack Development Course

  In a Full Stack development course you will learn about core concepts of both Backend and Front end programming.In a Full Stack development course you will learn about core concepts of both Backend and Front end programming.

  In Front end web development we will teach you about CSS3, Java Script, HTML5, jQuery and Twitter Bootstrap.

  You will learn how industry professionals handle the different stages of web development

  We will teach you about the latest web development ecosystem and the latest web development technologies.



  In the Backend web development you will learn about Node.js, PHP, Express JS and MONGO DB.



  You will learn concepts like styling different web pages by using CSS, effects of CSS3 and also animations. Also, you will learn how to handle the events in the bootstrap.
Why Full Stack Development Course?
This Full Stack Developer course is designed to give you an essence of front-end, middleware, and back-end web developer technologies. You will learn to build an end-to-end application, test and deploy code, store data using MongoDB, and much more.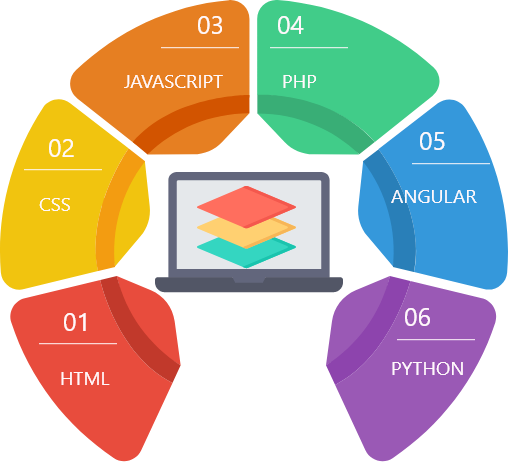 The position of full stack developer is the high-profile job in the IT industry. A full stack developer has extensive real-time knowledge in both the front and backend part of the application stack. Full Stack Developer Course in Erode will advance your career as a Real Time Project Full Stack Developer. There is sufficient proof that the best Full Stack Web developers are fundamentally in great demand for modern application development. Gain a technical edge and learn how to develop websites and web applications right from design to deployment. We're providing the full stack developer course with placement. This Full stack training course lets students configure servers, develop a database and build web applications using various technologies including PHP, Python, HTML, CSS, JavaScript, Node Js and Angular 7.

   Train from professionals with industry experience


   Learn theoretical concepts and gain hands-on training simultaneously


   Real time Hands-On Practical Experience Training to imbibe corporate practices


   Get certified at the end of the training


   Receive placement support once the training is completed


   Getting exposure to latest technology up gradations.


   Advanced lab facility and most updated syllabus and materials will be provided with learning tools for easy learning


   You will have the access to contact the trainers at any time.
Book Your Free Demo Class Today!
Enhance your decision-making skills from our Free Trial Lessons at NSCHOOL Academy.
Why Nschool Academy for Full Stack Development Training?
NSCHOOL Academy's Full Stack Developer program provides extensive hands-on training in front-end, middleware, and back-end technology skills along with phase-end and capstone projects based on real business scenarios.

Trainers are certified professionals with over 9 years of experience in their respective domains.
Trained more than 500+ students in a year.
Trainers teach the students to learn the practices employed by the top IT companies.
Have experienced multiple real-time projects in their Industries
Industry-experts and subject specialists who have mastered running applications provide Best Full Stack Development training to the students.
We have restricted the batch size to empower students to have great understanding and communication between our trainers and students.
Strong Theoretical & Practical Knowledge
Well connected with Hiring HRs in various companies.
Expert level Subject Knowledge and fully up-to-date on the real-world industry applications.
Trainers also help candidates to get placed in their respective company by Employee Referral / Internal Hiring process
Interactive online training classes permit complete interactivity between the student and the trainer.
Prerequisite
There are no technical requirements to join the Full stack web development training course as the basic programming technologies are covered here.