Big Data Development Training Course in Erode
Big Data is a term applied to technologies that encourage taking care of considerably huge datasets. These datasets are enormous to the point that they can't be prepared to utilize conventional or traditional data processing tools. To work these huge arrangements of information, there are dedicated platforms like Hadoop which have particularly been intended to deal with all kinds of massive data. Big Data Hadoop training course in Erode gives top to bottom information on Hadoop Ecosystem tools and Big Data.

NSCHOOl Academy offers the most comprehensive and in-depth Big Data Hadoop Development preparing in Erode that is planned by industry experts so as to assist you with your career. This training will enable the students to figure out how to function with various Big Data tools like Hadoop, MapReduce, Spark, Kafka, Apache Pig, Hive, Flume, Sqoop, and so on and plan innovative Big Data arrangements by working on real-world projects. When you complete the course, you will be prepared to apply your knowledge to real-world scenarios.
Key Features of Big Data Development Course

  You will learn Complete mastery of HDFS, MapReduce and Big Data Analytics.


  Appreciate the need for a platform like Hadoop.


Demonstrate the ability to quickly perform ad-hoc analysis of Big Data.

  Understand what is Big Data and the sources of Big Data.


  Overview of the technological landscape of Big Data.


You will learn the master handling of large datasets using the Hadoop ecosystem
Why Big Data Development Course?
This Big Data Development Certification course is designed to give you the potential of working on considerable huge datasets. You will get 100% hands-on practice on Big data tools like Hadoop, and MapReduce, and many more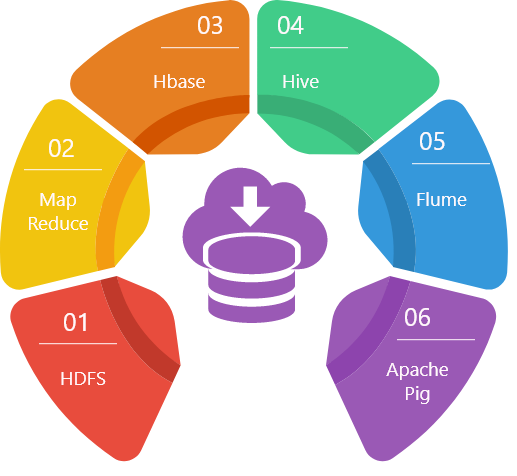 Big data is a word used to demonstrate huge volumes of data both structured and unstructured. As a rule, these data sets are huge to the point that they either belittle the current data processing capacity of an enterprise or move too quickly to ever be taken care of by standard data handling tools. As far as software Development processing and data science, Big Data is an eminent name because of its different employments. With further developed software possibilities and simpler processing methods, it empowers better technological progression. Also, this includes a lot of different components besides the complicated data, similar to better methods, tools, and structures

   Train from professionals with industry experience


   Learn theoretical concepts and gain hands-on training simultaneously


   Real time Hands-On Practical Experience Training to imbibe corporate practices


   Get certified at the end of the training


   Receive placement support once the training is completed


   Getting exposure to latest technology up gradations.


   Advanced lab facility and most updated syllabus and materials will be provided with learning tools for easy learning


   You will have the access to contact the trainers at any time.
Book Your Free Demo Class Today!
Enhance your decision-making skills from our Free Trial Lessons at NSCHOOL Academy.
Why Nschool Academy for Big Data Development Training?
NSCHOOL Academy's Big Data Developer program provides extensive hands-on training in front-end, and back-end technology skills along with phase-end and capstone projects based on real business scenarios

Trainers are certified professionals with over 9 years of experience in their respective domains.
Trained more than 500+ students in a year.
Trainers teach the students to learn the practices employed by the top IT companies.
Have experienced multiple real-time projects in their Industries
Industry-experts and subject specialists who have mastered running applications provide Best Big Data Development training to the students.
We have restricted the batch size to empower students to have great understanding and communication between our trainers and students.
Strong Theoretical & Practical Knowledge
Well connected with Hiring HRs in various companies.
Expert level Subject Knowledge and fully up-to-date on the real-world industry applications.
Trainers also help candidates to get placed in their respective company by Employee Referral / Internal Hiring process
Interactive online training classes permit complete interactivity between the student and the trainer.
Prerequisite
We don't expect any prior knowledge from your side. However, a basic understanding of Core Java and SQL can be helpful when joining the Big Data course in NSCHOOL Academy.