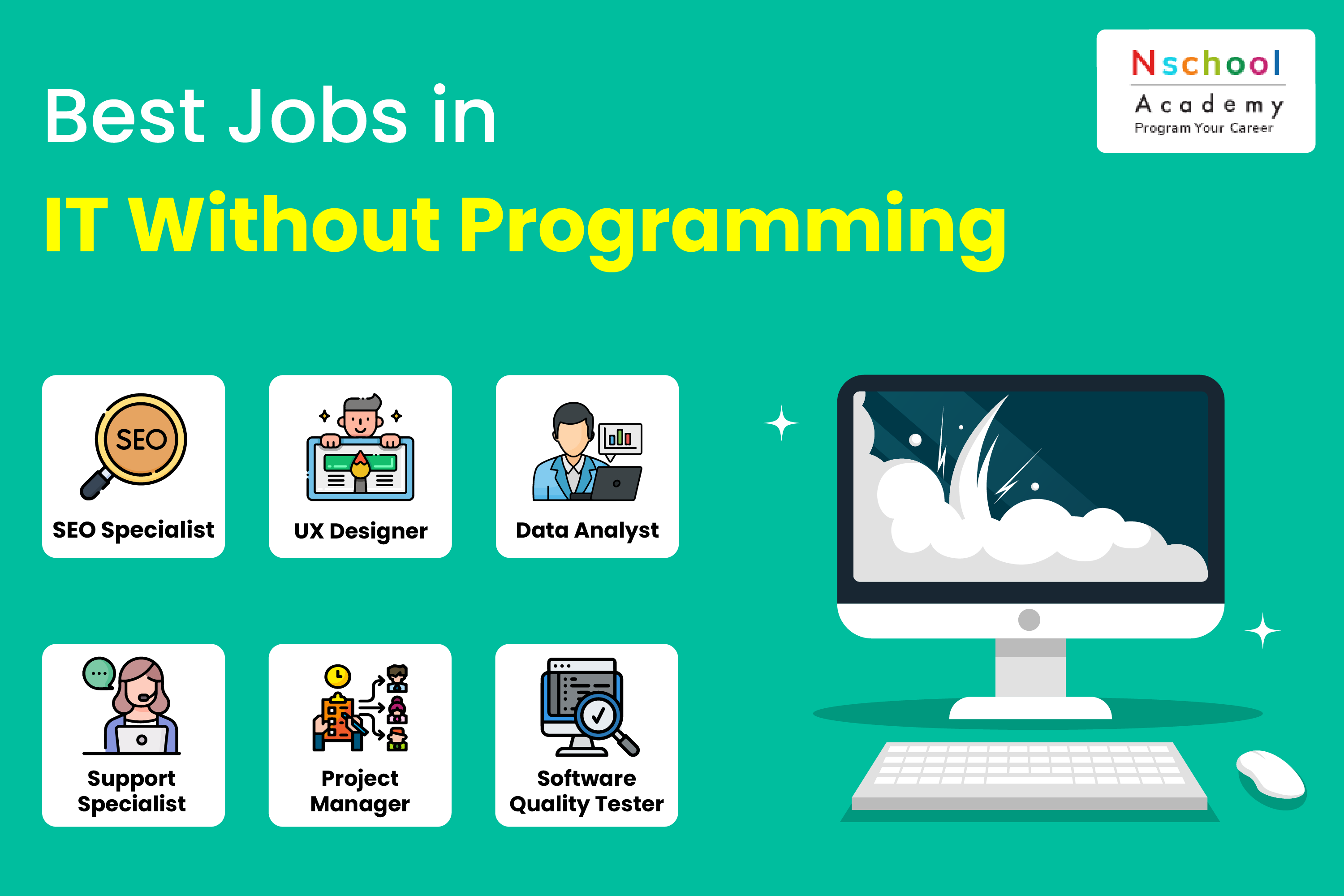 Best jobs in IT without Programming
Tech is undeniably the future sector. If you're one of the millions of young people set to embark on the first leg of your working life, you may wonder what to do if you don't prefer coding. Programming isn't for everyone. Developing this skill demands a very specialised kind of quantitative and analytical mind, and the learning process might be difficult. You don't need a prestigious degree to succeed, and there are a variety of options for professions that don't require coding. There are
best IT courses
without coding.
Non-coders may find employment in the information technology industry, and many operations can be carried out without the necessity for software development knowledge. For instance, jobs such as data analysts, UI designers, and UX designers do not need the knowledge of coding to become a part of the ever-evolving digital industry. Although firms initially favour new hires, work experience always wins.
Coding is not for everyone, but it should not prevent you from pursuing a career in technology. There are a variety of non-coding IT jobs available for you to pick from, allowing you to become a part of the ever-evolving information technology industry.
Simple Ways to Acquire Coding
Before the advent of the internet, people were required to choose a job path that would determine their development trajectory at a very young age. In recent years, however, improvements in the educational industry have made it easier to fulfil the desire for information and the need to improve skills.
For a long time, it was believed that the job route you choose after 12th grade would determine the course of your professional life for the entire lifespan. This is no longer the case, and there are best IT courses without coding. With more options and programs available, gaining IT skills has never been easier. When it comes to learning new skills and abilities, there will not be any problem, if you have a desire to acquire knowledge and upskill yourself.
Tech Jobs that Don't Require Coding
Most non-coding IT jobs are in sales or managerial positions. There are many more IT jobs that need expert-level knowledge but don't require programming skills. These are positions in the fields of graphic design, marketing, and writing, and on the other hand these are the best IT courses without coding.
Software Product Manager
● Software product managers create software products. They
lead software development
teams. Product managers often employ critical thinking to establish strategies for product and commercial success.
● The IT project manager must monitor the project's progress. They keep an eye on the project from start to completion, making sure no details are missed.
● A product manager manages the product's design, strategy, and execution. Their duty is to ensure value for consumers. Product managers create strategies and identify solutions to functional needs. This is the best job in the IT field without programming in India.
IT Support Specialist
● IT Support Specialists troubleshoot employee and customer hardware, software, and network issues. To become an IT Support Specialist, you need a solid grasp of various tech products, extensive knowledge of software and network issues, and excellent communication skills, being an IT support specialist is one among best IT jobs without coding.
● Client and customer set-up is made easier by IT support specialists. They learn new software, equipment, and how to resolve faults. However, they will not be expected to write any software applications as part of the assignment.
● To diagnose and resolve project difficulties, you need to have basic technical abilities. While the work requires specific data restoration abilities, you must also be able to manage your time and communicate effectively.
UI Designer ( User Interface Designer)
Have you ever left a website or stopped using a product because you felt it lacked enough appeal? A
User Interface designer
just needs an eye for design and competence in guaranteeing a beautiful interface that makes it easier for the target audience to utilise the product/website. You must create a smooth, clean, and simple user interface.
UX Designer ( User Experience Designer)
● The word "user experience" refers to how end-users engage with a product. UX designers adhere to fundamental guidelines to guarantee users can swiftly explore their items and acquire information. A solution that matches client expectations requires extensive study to understand their wants and problematic areas.
● While UX designers may not need programming abilities, they must be familiar with products like the Adobe Creative Suite. To build designs that work efficiently for the target audience, they must also be imaginative and creative. Hence this is the best job in IT without programming.
Software Quality Tester
● An SQT aims to improve software quality by removing flaws. One of the main duties of a
Software Quality Tester
is to create procedures and frameworks for testing software.
● Program Quality Test Engineers undertake functional, stress, performance, and scalability tests on a variety of customer scenarios to "break" the software and find flaws. This can be accomplished without any prior understanding of programming or coding and therefore it is considered as the best non-coding IT job.
● SQTs ensure software products are high quality before they are distributed to the public. The field is related to quality assurance, although it is different from it.
SEO Specialist
●
Search engine optimization (SEO)
professionals create and execute SEO and marketing strategies. Their work helps businesses optimise content and improve online searchability. They also utilise their analytical abilities to diagnose and address SEO difficulties. As a non coding IT job SEO Specialist programming and coding is not necessary for SEO professionals.
● SEO may be done by a beginner or someone who enjoys writing and can evaluate data. In addition, an SEO expert ensures that the blog posts are optimised for search engines. Their whole focus is on generating high-converting website visitors. On a daily basis, they research keywords, work with content teams to make their content more search engine friendly, and monitor, analyse, and report website statistics and PPC campaigns.
Data Analyst
● Professionals in data analysis like studying huge data sets, identifying patterns, and conveying their results. Data analysts need good maths, stats, and analytics skills. To gather and arrange massive data sets. Skills in data mining and processing are required. This is one among the high paying IT jobs without coding.
● Data is a valuable source that gives firms a competitive advantage. A data analyst examines, models, and presents data. They evaluate existing data and help forecast future patterns.
● To get better outcomes, you need to be familiar with data visualisation and analytics technologies like Tableau, Excel, Fusion, and Datawrapper.
Technical Writer
● If you want to undertake an in-depth study on any issue, are familiar with technical vocabulary, and want to write compelling material, this is the job for you. Technical writers provide user manuals, blogs, resource guides, whitepapers, studies, and eBooks. ● Technical writers translate a product's, software's, or system's technical details into plain English. They produce instructions or educational materials to help users or specialised audiences understand the technology they wish to utilise. They write on binary coding, AI, and networking principles. This is the best IT course without coding.
Bringing To A Close
If you're willing to put in the time and effort, there are plenty of high-paying IT jobs without coding. Jobs in IT like graphic design or technical writing are fantastic entry points. You may also apply for advanced positions like social media and software product managers.
Learning more about the computer sector may help you improve your talents. To advance in your chosen IT field, you may enrol in classes and study online. A career in technology may be rewarding, with high pay and flexible hours. The tech business also provides a variety of work opportunities to broaden your professional expertise.
About NSCHOOL
NSCHOOL Academy
has been a pioneer in training and software development since 2008. It was founded in Coimbatore to assist students to progress in their careers. We now have over 2,000 students working as software engineers in the IT area. With the help of students and teachers, this is feasible. Our top students are hired directly by BYOT Technologies, our parent firm. Our IT training institute in Coimbatore shines with this method and effective placement training. NSCHOOL Academy is here to help you succeed as a developer. You dream it, we'll make it happen.