IOS App Development Training Course
IOS,  earlier called as iPhone OS is a mobile operating system developed by Apple Corporation in 2007. Learn the ios app development course at NSCHOOL Academy. We are the Best IOS Mobile App Development Training institute in Coimbatore. The iOS development is addressed in the Objective-C programming language and Swift programming, where OOPS concept is added to the Objective-C language. The iOS Training Institute in Coimbatore, NSCHOOL ACADEMY provides the basics of iOS application development training to learn and design its implementation from the interface of enterprises.
The IOS training in Coimbatore is ideal for any individual who want to
learn
IOS application development
 and wants to build a successful career in mobile application development. Learn how to develop iOS apps from Top rated iPhone app development instructors. NSCHOOL Academy offers Xcode, iOS with Swift programming training, and mobile app development courses to help you create high-quality apps for Apple products.
Key Features of IOS App Development Course

  You'll be creating working iPhone and iPad Apps in class within a few,     fast-paced days.


  You will be trained how to design and test User Interfaces with the interface builder as well as the simulator.


Covering advanced topics like file handling, graphics drawing, database management, animation, etc.

  You'll be creating working iPhone and iPad Apps in class within a few,     fast-paced days.


  Gain core skills on the framework of iOS development.


 You will learn Step by step approach to understanding the iPhone hardware and architecture.
Why IOS Development Course?
This iOS Developer certification course is designed to give you an essence of front-end,  and back-end Mobile app developer technologies. You will learn to build an end-to-end mobile application, test and deploy code, store data using JSON web services , and much more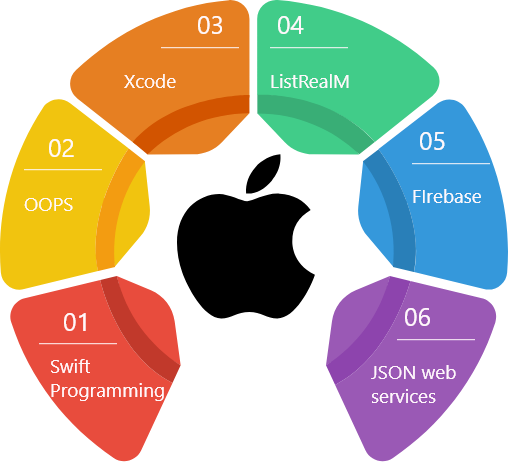 The iOS training course for
IOS application development
lets students build an app from scratch using Swift programming language. With the emergence of new and innovative tech gadgets, the Information Technology sector has got an innovative edge. One among them is the iPhone. There are multiple applications that can be developed for this innovative gadget which has gained a global popularity. Nowadays, there are many global companies that are quite engaged in iPhone application development as there is a great demand for it. The
IOS training course
provides an interactive session that allows the students to understand all about iPhone application development in an easy and informative way. The iPhone training course that we provide gives an in-depth and hands-on training of
iPhone application development
programming

   Train from professionals with industry experience


   Learn theoretical concepts and gain hands-on training simultaneously


   Real time Hands-On Practical Experience Training to imbibe corporate practices


   Get certified at the end of the training


   Receive placement support once the training is completed


   Getting exposure to latest technology up gradations.


   Advanced lab facility and most updated syllabus and materials will be provided with learning tools for easy learning


   You will have the access to contact the trainers at any time.
Book Your Free Demo Class Today!
Enhance your decision-making skills from our Free Trial Lessons at NSCHOOL Academy.
Why Nschool Academy for IOS Development Training?
NSCHOOL Academy's iOS Developer program provides extensive hands-on training in front-end, and back-end technology skills along with phase-end and capstone projects based on real business scenarios

Trainers are certified professionals with over 9 years of experience in their respective domains.
Trained more than 500+ students in a year.
Trainers teach the students to learn the practices employed by the top IT companies.
Have experienced multiple real-time projects in their Industries
Industry-experts and subject specialists who have mastered running applications provide Best iOS Development training to the students.
We have restricted the batch size to empower students to have great understanding and communication between our trainers and students.
Strong Theoretical & Practical Knowledge
Well connected with Hiring HRs in various companies.
Expert level Subject Knowledge and fully up-to-date on the real-world industry applications.
Trainers also help candidates to get placed in their respective company by Employee Referral / Internal Hiring process
Interactive online training classes permit complete interactivity between the student and the trainer.
Prerequisite
There are no technical requirements to join the IOS App development training course as the basic programming technologies are covered here.